Are you curious about the art in Umeå? Art creates dynamism in the city, adds unexpected elements to everyday life and challenges our minds! Walk the art round and discover some of the artwork that is in central Umeå.
You can choose to discover 18 or 8 pieces of art.
A collaboration with the art unit at Umeå municipality
Art round 1: with 18 works of art.
Artwork 1-18, about 60 minutes.
Art round 2: with 8 works of art.
Artwork 1,16,17,18,15,12,14,13, about 30 minutes.
You can also read or download the brochure here.
Artist, Works / Title, Year of Creation, Technology, Location, Owner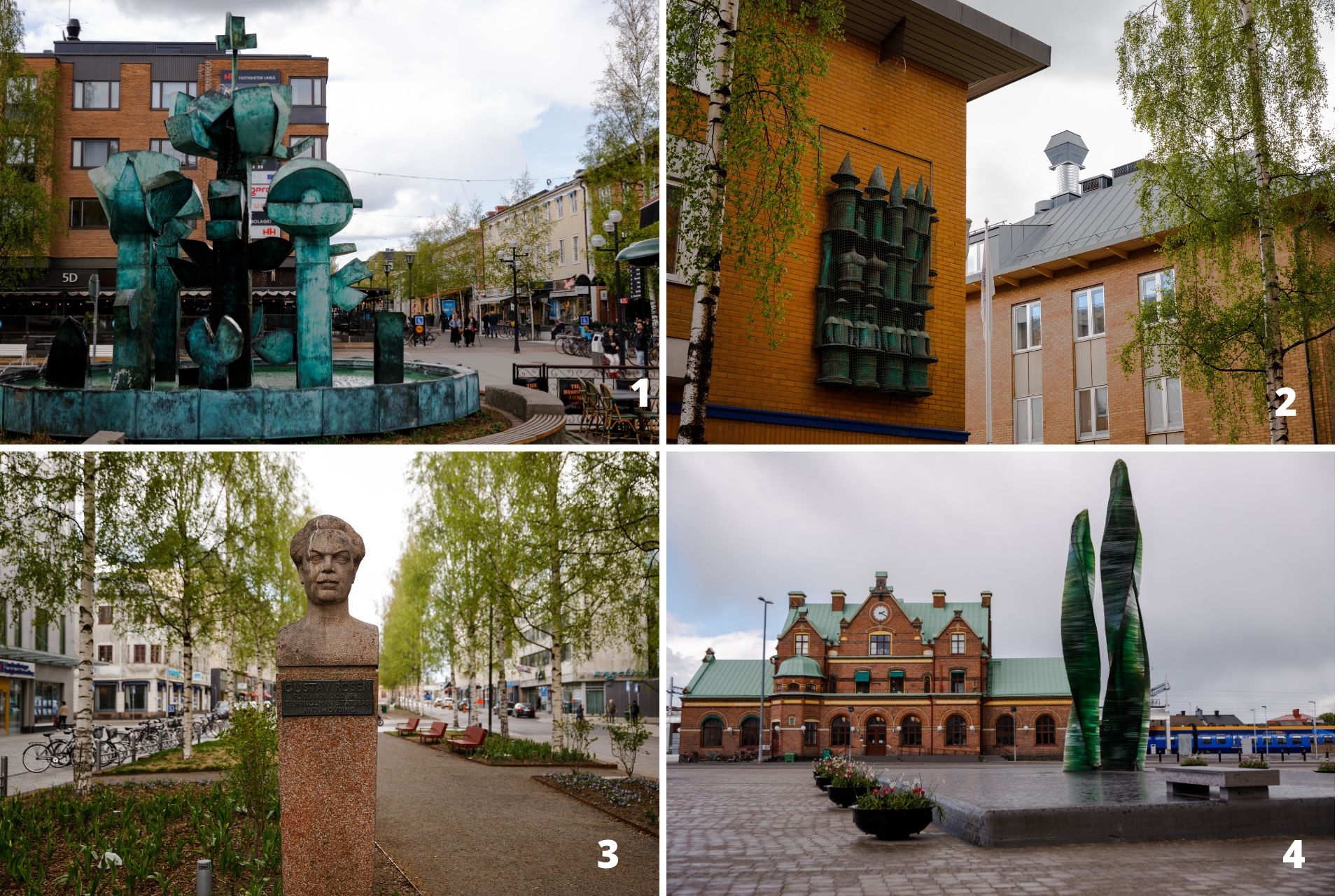 1. Stig Lindberg (1916-1982), Fontänskulptur, 1976, copper, Renmarkstorget, Umeå Municipality
2. Ante Dahlstedt (1941-2013), Människans boning, 1984, copper, Skolgatan, HSB
3. Wilhelm Gieseke (1910-1992), Gustav Rosén, 1950, granite, Rådhusesplanaden, Umeå Municipality
4. Vicke Lindstrand (1904-1983), Grön eld, 1970, glass, Järnvägstorget, Umeå municipality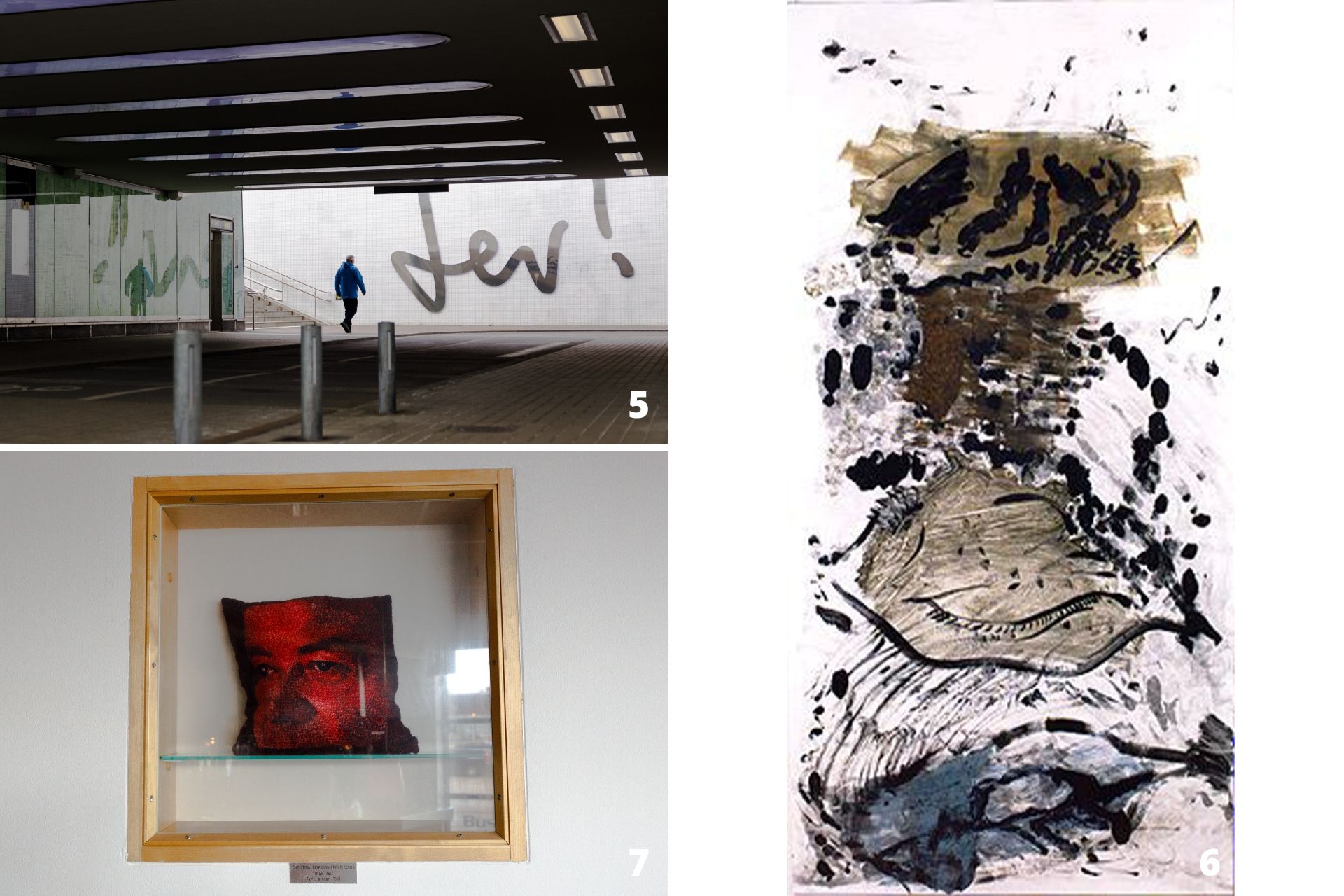 5. FA + / Ingrid Falk (1960-) and Gustavo Aguerre (1953-), Lev !, 2012, glass / concrete intarsia / sound and 
    light artwork, pedestrian tunnel at Umeå järnvägsstation (railway station), Umeå Municipality
6. Per Kirkeby (1938-2018), Untitled, 1988, monotype, bus station (indoor), Umeå municipality
7. Christina Eriksson-Fredriksson (1964-), Untitled, 1995, embroidery, bus station (indoors in restaurant),
    Umeå municipality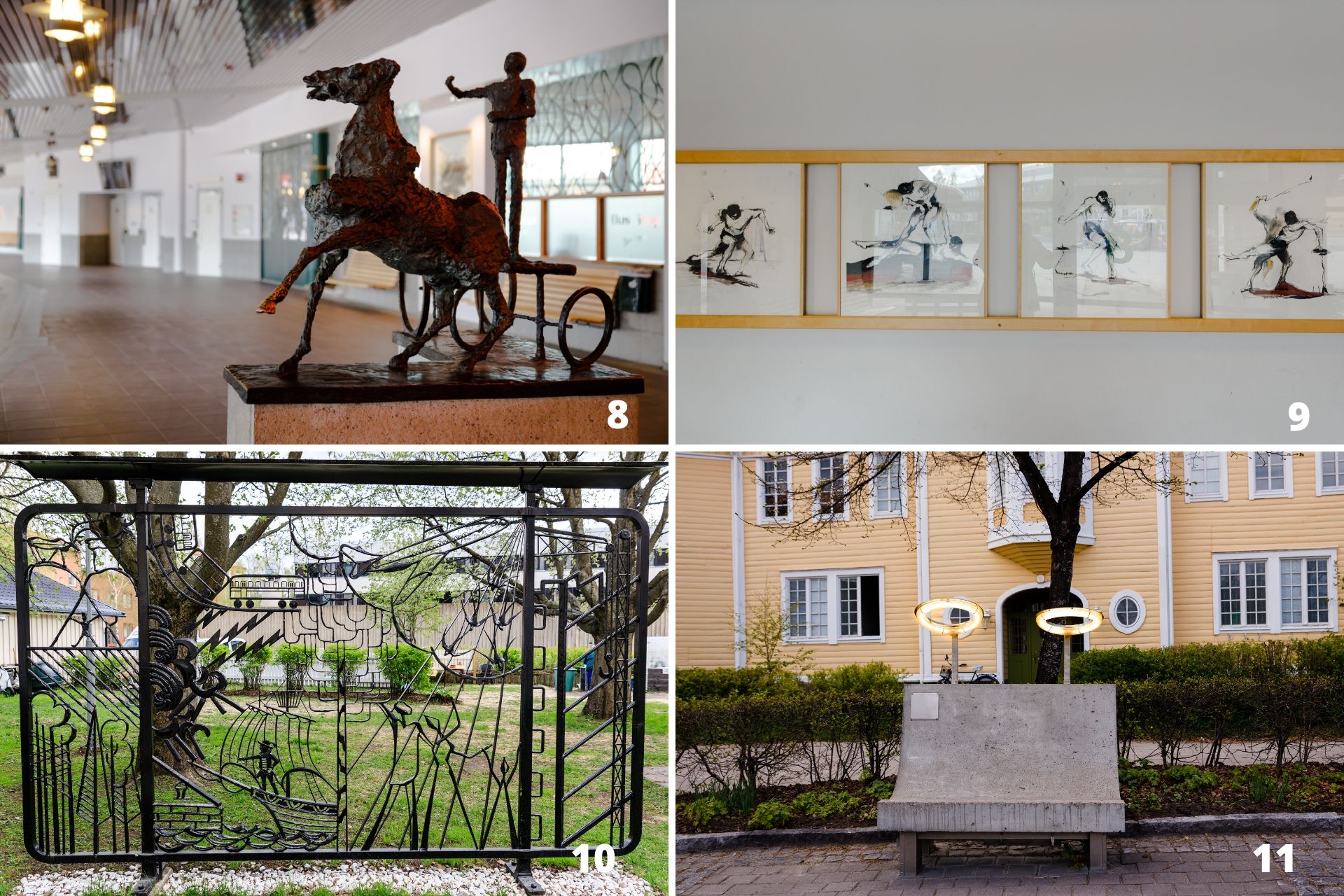 8.   Asmund Arle (1918-1990), Man- häst- vagn, 1965, brons, Busstationen (inomhus), Umeå kommun
9.   Bill Olson (1950-), Dans för svart kåpa, 1996, serie av 5 verk i blandteknik, Busstationen (inomhus), 
      Umeå municipality
10.  Seth (1903-1978) och Lars (1931-) Lindgren, Umeågallret, 1962, järnsmide,
       Rådhusesplanaden/Vasagatan, Bostadsrättsföreningen Bågen
11.  Mikael Richter (1963-), Laddningsplats för ljushuvuden, 2000, betong- och ljuskonstverk,
       Operaplan, Umeå Energi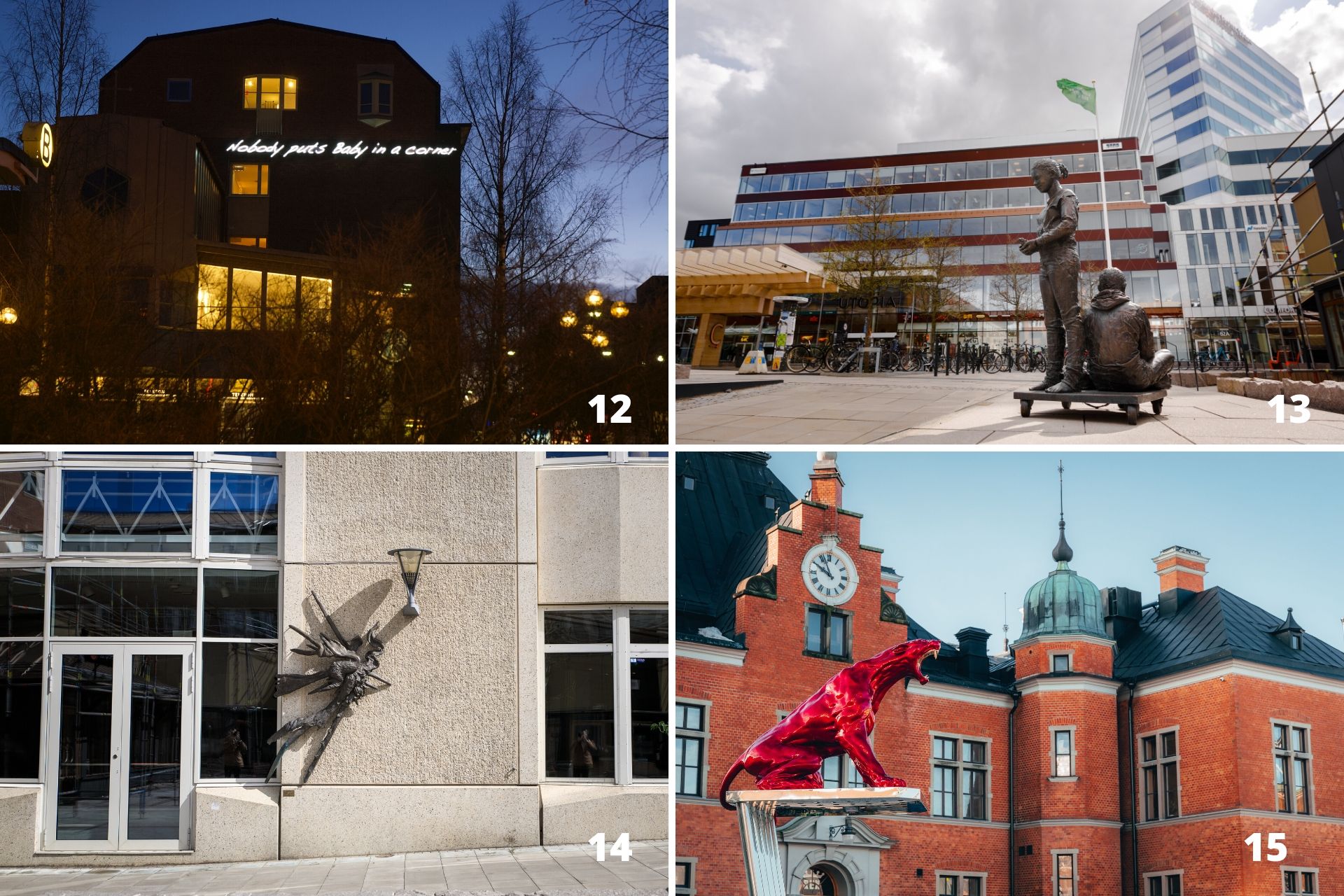 12. Sisters of Jam / Moa (1976-) and Mikaela (1980-) Krestesen, Nobody puts Baby in a corner,
       2008, neon lights, Vasagatan 12, Balticgruppen
13. Knutte Wester (1977-), I want to be heard, I want to be found, 2016, bronze, Vasaplan close to 
       Umeå Folkets Hus, Umeå Municipality
14. Beth Laurin (1935-), Väsen, 1987, bronze, Umeå Folkets Hus, Umeå Folkets Hus
15. Camilla Akraka (1968-), Listen !, 2019, lacquered polyester composite / bronze alloy / stainless steel,
      Rådhustorget, Umeå Municipality. The artwork is currently not in place due to repair.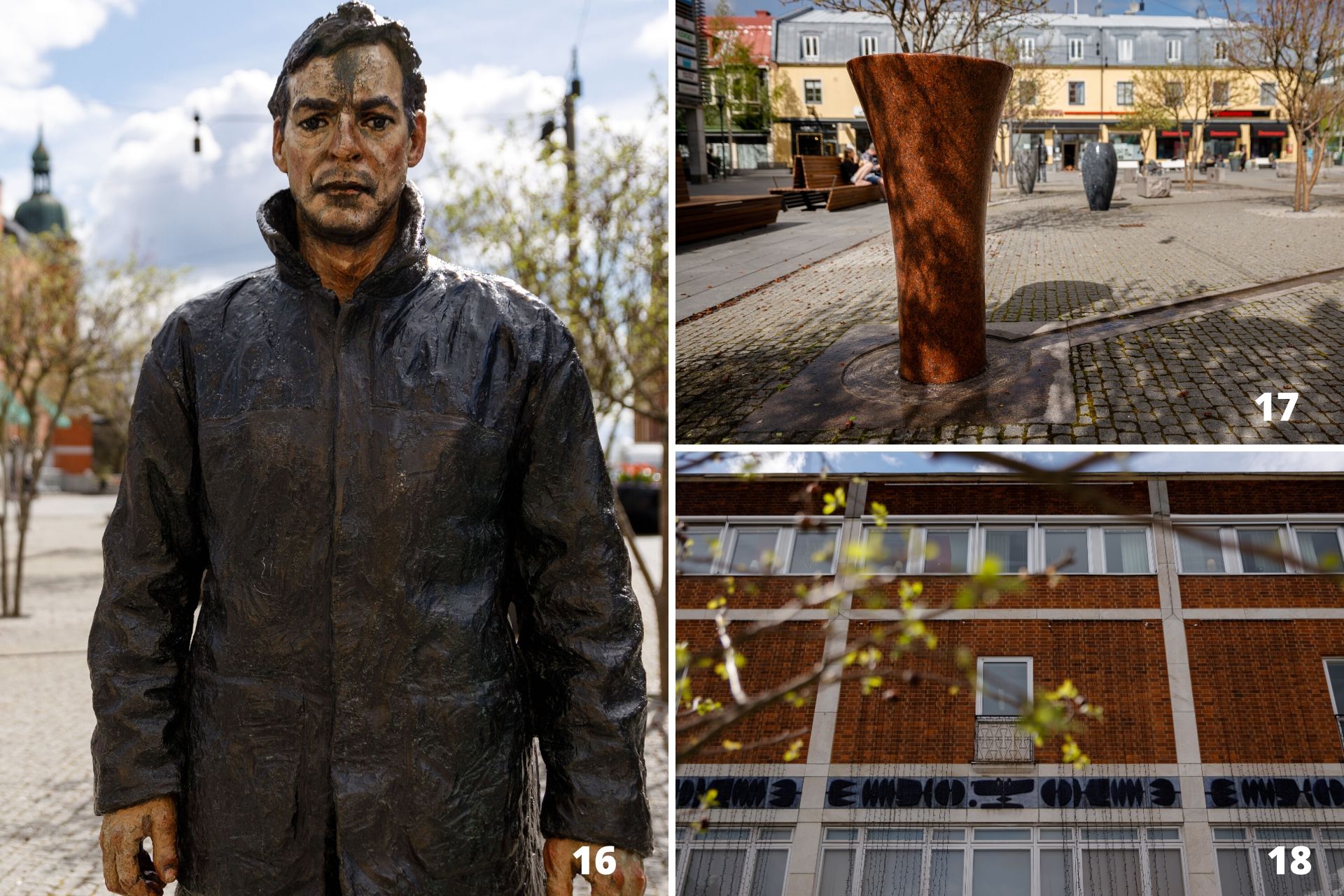 16. Sean Henry (1965-), Standing Man, 2008, oil paint painted bronze, Rådhustorget, Umeå Municipality
17. Pål Svensson (1950-), Källflöden, 2017, Gray Bohus granite / Hallandsgnejs / Diabas / Dark labrador
     / Tranås ruby / Ice green, Rådhustorget, Fort Knox
18. Stig Lindberg (1916-1982), Tillvarons former, 1962, glazed tile, Rådhustorget, MVG, Diös