Discover exciting and dramatic landscapes shaped by the inland ice! The trail Isälvsleden, best known as a hiking trail, has in recent years been adapted for cycling. In two places, the trail now divides into a bicycle section and a hiking trail.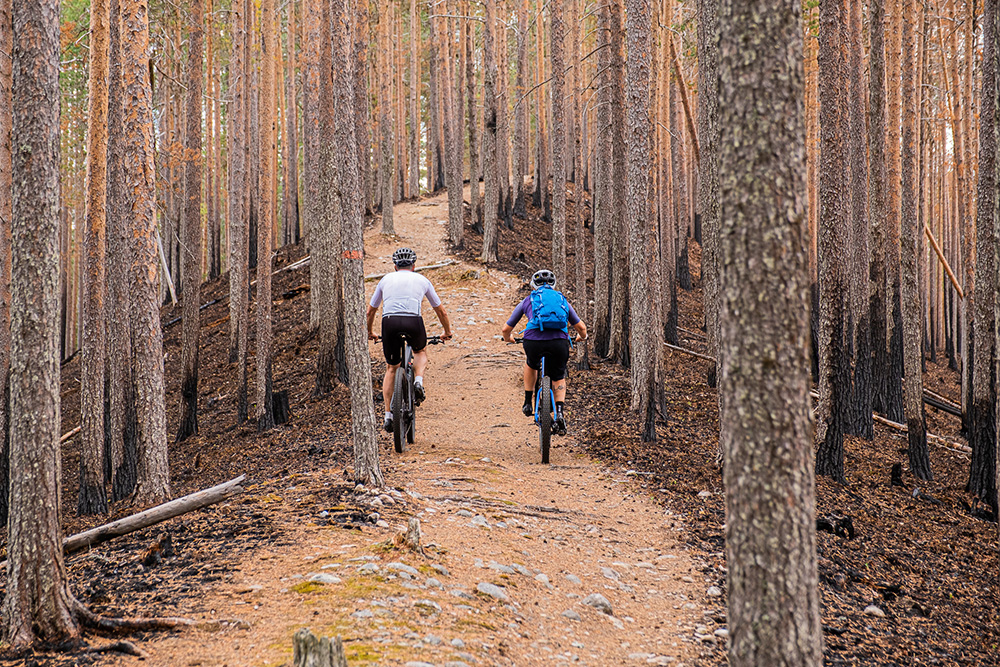 Isälvsleden. Photo: Andreas Nilsson
Degree of difficulty and type of trail
The nature along the trail is mostly sandy pine forest, which provides nice easy-to-follow trails.
The trail as a whole is ranked green and blue (on the scale green, blue, red, black) but sometimes short steep slopes appear at ridges and riverbanks. Some of the slopes are so sandy and loose that even really good cyclists have to jump off and lead the bike. 
Routes along the trail
Riding the entire trail - 58 km - between Åmsele and Vindeln takes about 4-5 hours, depending on how many stops you make along the way. You can also ride parts of the trail:
Vindeln-Hällnäs 
18 km 1.5 hour
Hällnäs-Djupsund
23 km 2 hours
Hällnäs-Åmsele 
40 km 3 hours
Trail signs
The trail is marked with signs and orange paint on trees and poles.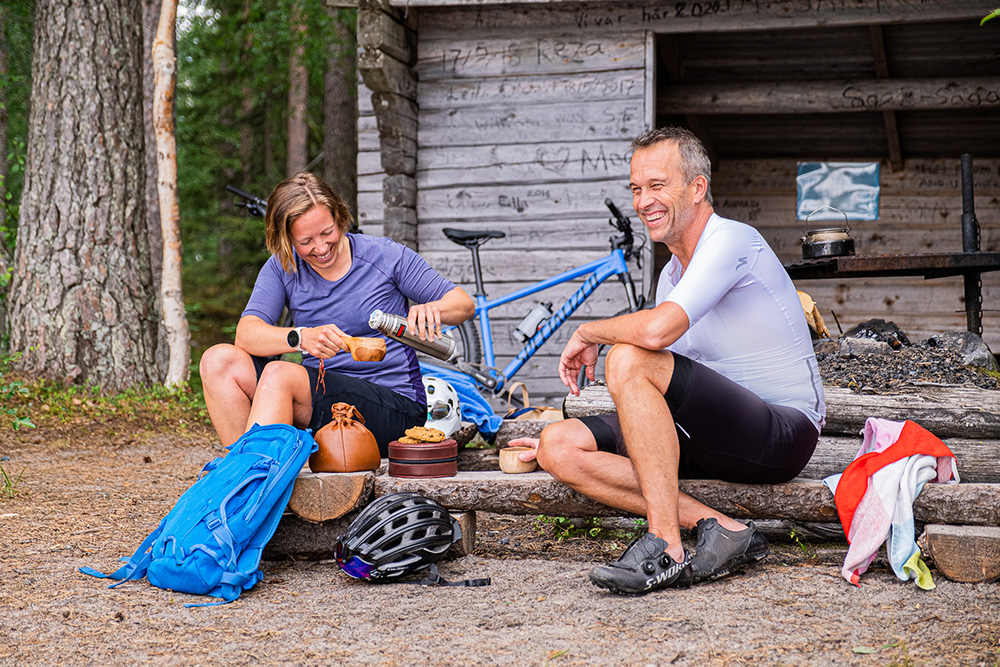 Isälvsleden. Photo: Andreas Nilsson
Parking
Friluftscentrum in Vindeln
Hällnäs, by the railway station
The entrence of the Valfrid Paulsson nature reserve
Åmsele Camping
How to get there
By train to Vindeln or Hällnäs with Norrtåg
By car
Service
Vindeln: The shop Kaffe Skog & Rök has outdoor equipment and offers bicycle rental.
There are also Coop and ICA (supermarkets) as well as hotels and hostel.
Hällnäs: Servicepunkten offers food, hot dogs, ice cream and coffee.
Kärleksuddens Camping is beautifully situated by the Vindelälven river and has cabins and a swimming area.
Åmsele: Handlar'n in Åmsele sells food and ice cream.
Åmsele Camping has cabins and its own swimming area. Canoe rentals are also available here.
Bicycle rental
Friluftsbutiken Kaffe Skog & Rök
Olovelo
Map
Isälvsleden on Google maps can be found here