Despite the ongoing pandemic, there are all possibilities to find your Christmas spirit! Christmas in Umeå offers a number of different activities that can be experienced safely and securely. Here we have listed all the activities and events you need to check out to ensure a wonderful Christmas time!
The information on this page was current Christmas 2020!
A special and important Christmas – This is how we work with security regarding Covid-19
Christmas is a holiday we want to celebrate with love, caring for family and friends and feeling safe. This year, Christmas is not as usual and we all need help to reduce the spread of Covid-19. Since we do not want to encourage something that is insecure or uncertain, we have created activities adapted to the prevailing situation, outdoors and with distance between the participants. All activities follow the Swedish Public Health Agency's recommendations, and we have, done our best to ensure that you have a wonderful Christmas time – despite this.
Activities in Umeå city centre
27 November – 21 December
Send a wish list to Santa Claus
In the city centre, Santa Claus himself has placed a large, magical mailbox. Here, all children can mail their wish lists to Santa, with the opportunity to have their wishes fulfilled. By leaving a parent's contact information on the wish list, you have the chance to win some of what you wished for. Did you forget to bring your wish list to the city centre? No problem! Thanks to the shop Sandberg's pappershandel, all children can get free stationary to write their wish lists on. Just tap on the shop window or go into the store and they will provide you with everything you need to send your wish mail. Santa's mailbox can be found by Äppellunden in the Rådhustorget town square until 21 December.
29 November – 23 December
Experience Christmas of All Times
Utopia will create display windows that interpret three different eras, the 70s-90s and the 10s. Experience nostalgic memories and the characteristic trends and events of each era. There will be well-marked places for everyone who wants to check out the display so that no crowding occurs. Utopia will also have a Christmas house that you can look into and discover exciting and clever things. Learn more about Christmas of All Times here
Weekends between 5 - 20 December
Visit the Christmas world in MVG
MVG will traditionally create a Christmas world in the mall where you can create a Christmas card, visit Santa, drink a cup of mulled wine and at the same time listen to beautiful Christmas carols by a Christmas choir. They will have an entrance host who makes sure that they only take in one family at a time (max 6 people) which makes the whole experience more corona safe and very exclusive! Learn more here.
7 - 20 December
Visit a gingerbread exhibition
Café Fika has organized a gingerbread competition where the best entries will be exhibited 7-20 December. There will be a lot of creative gingerbread houses on display. The works will be placed by the windows so that they can be viewed from the outside. The best entry will win a night at a hotel and a gift certificate at Fika! Learn more here
12 - 22 December 
Compete in the Christmas gift hunt - Win a gift cetificate with a value of up to SEK 5,000
The big Christmas gift hunt is a competition where you have to find ten hidden Christmas gifts in Umeå city centre. If you succeed, you will have the chance to win a gift certificate worth between SEK 100 – 5.000. The gift certificates are valid in stores, restaurants etc in Umeå City centre. Learn more about the competition here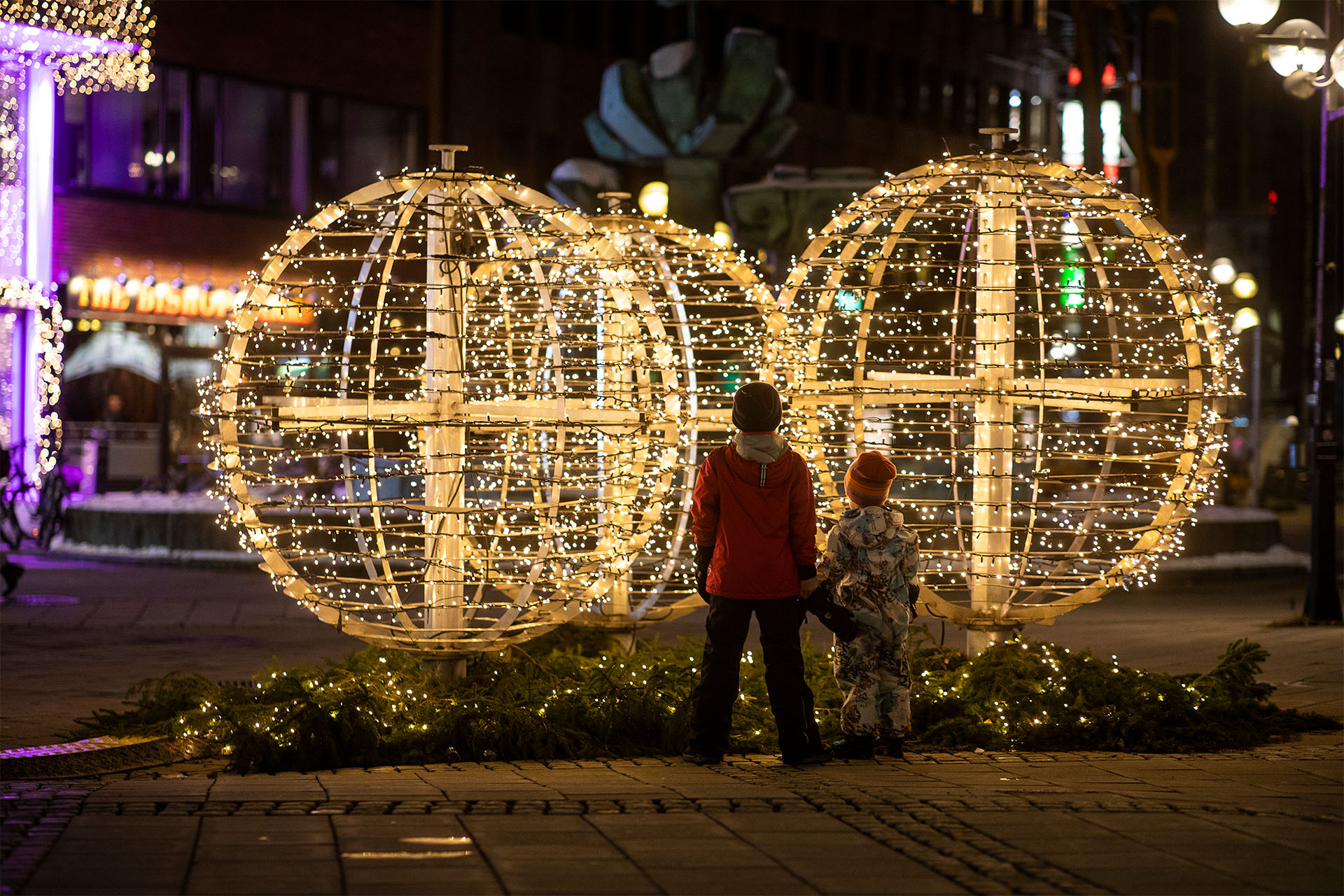 Foto: Fredrik Larsson
Umeå city centre in a Christmas mood
Until 23 December
Fire baskets and Christmas lights
Umeå city centre's public areas will be decorated with fire baskets and Christmas lights - all to create a Christmas atmosphere in the city centre. The beautiful starry sky along Rådhusesplanaden and the glowing light balls along Kungsgatan are already in place and during the four weekends until Christmas, the city centre will also be lit up by mood-enhancing fires.
From 5 December
Christmas display in shop windows
Do you miss the classic Skyltsöndag – the day when the stores traditionally show their Christmas displays in the shop windows for the first time? A mini version of the classic Skyltsöndag (i.e. Display Sunday) is now being reintroduced through two shop windows with Christmas displays at Kungsgatan 63C. The themes for the shop windows are classic and sustainable Christmas, created by Lisa Karlsson.
From 6 December
Projections on Kungsgatan
Every day until Christmas Eve, the films Santa's sleigh ride and Santa's secret visit are shown in one of Utopia's shop windows facing Kungsgatan. Together with the young members of the family, it is a cosy and intimate event that is guaranteed to put you in a Christmas mood.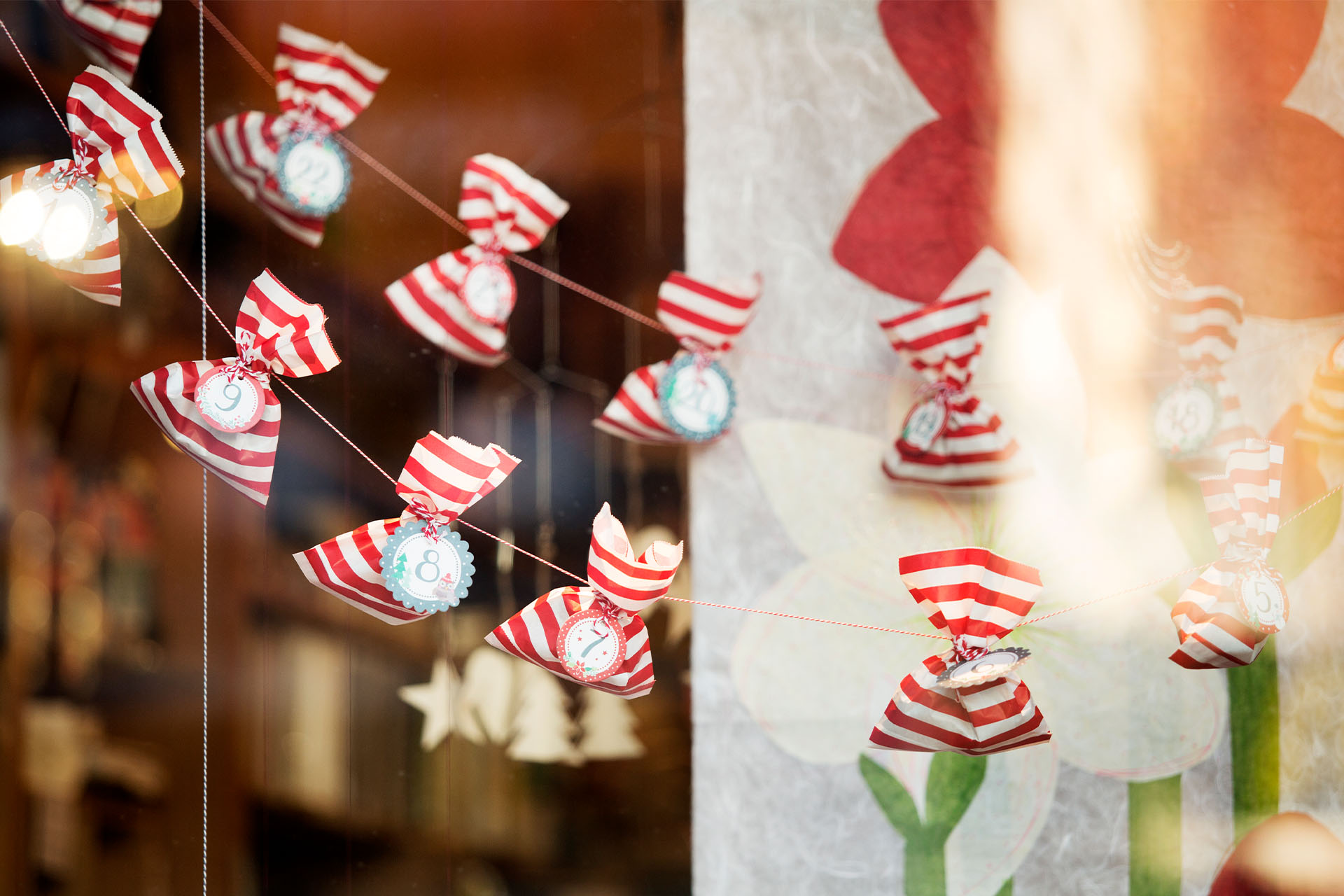 Foto: Malin Grönborg 
Safe Christmas shopping
Shop digitally but support locally
Many stores have made it possible for us to continue to shop safely, despite the current situation. We have seen many creative solutions appear because of the pandemic and we warmly welcome them all. Shopping via FaceTime, Instagram and Facebook are just a few of all the security measures that stores have taken for us to be able to continue shopping for Christmas and continue to support our local businesses. Learn more about the stores' innovative measures here
Christmas shopping outdoors
Among fire baskets and Christmas lights, you can now enjoy the Christmas atmosphere of the pedestrian street and at the same time get your Christmas gifts. Several stores in Umeå have made it possible to shop without entering the store. At Åhléns, you can, for example, call or email the store and tell them which goods you want and then be met outdoors with a mobile payment terminal. At home store, Linné och Grankvist and Hemslöjden can also meet you outside the shop. Just tap on the store window.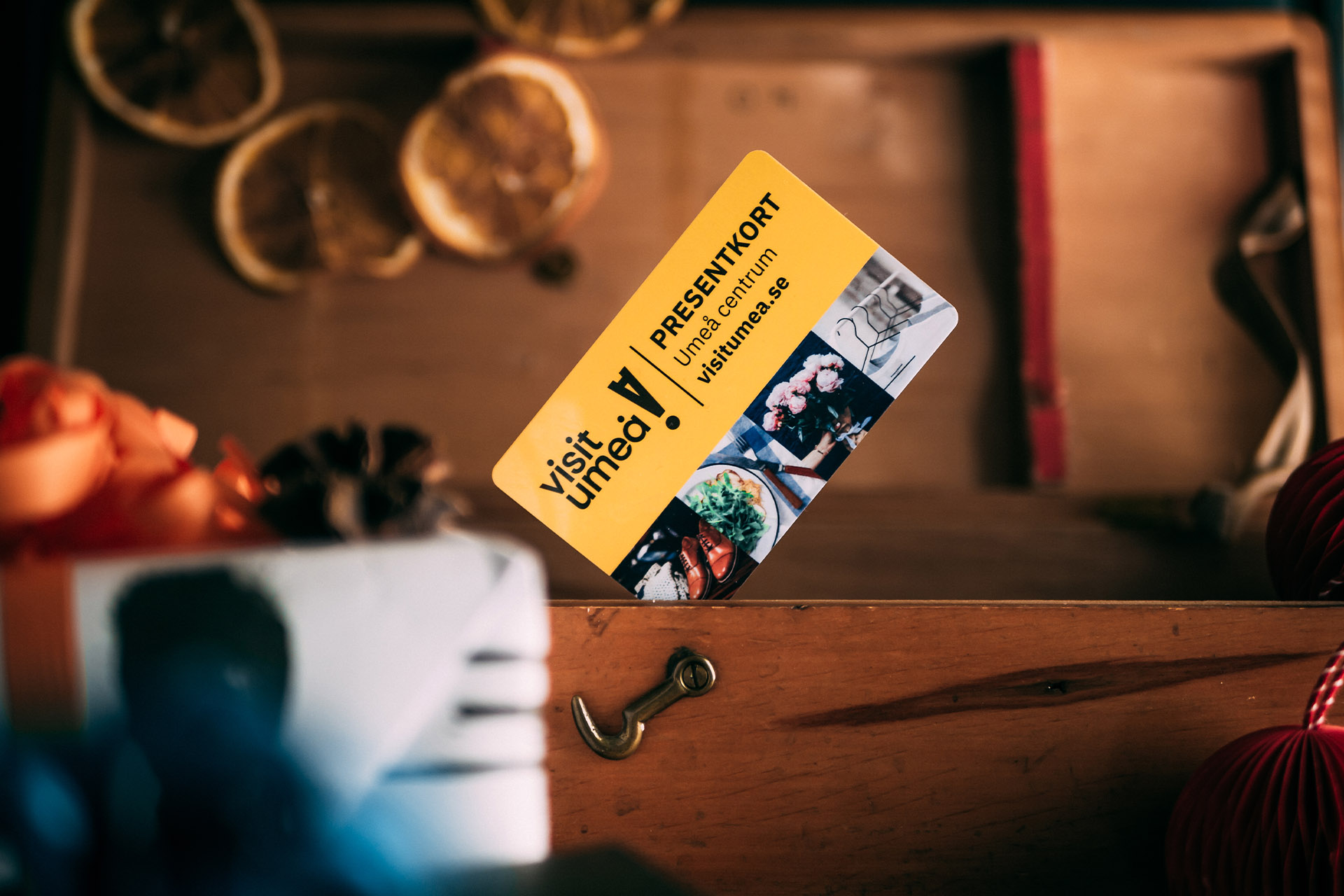 Gift certificate Umeå city centre
With over 100 different redemption points in Umeå city centre, Visit Umeå's gift certificate is a perfect gift that suits most people. The gift cetificate can be used at everything from shops and restaurants to cafes and hotels. Read more about our gift card here.