This year, Christmas in Umeå Centrum offers a packed program with everything from Christmas cinema on Rådhustorget, Santa run and a visits by Santa himself and his reindeers. Here you will find this year's Christmas activities in Umeå City centre 2023
Activities in Umeå Centrum 2023
Recurring events

1 november – 21 december
Send wishlist to Santa Claus
In the middle of the center, Santa Claus has placed a large, magical mailbox where all children can send their wish lists to Santa. The mailbox is at Äppellunden on Rådhustorget.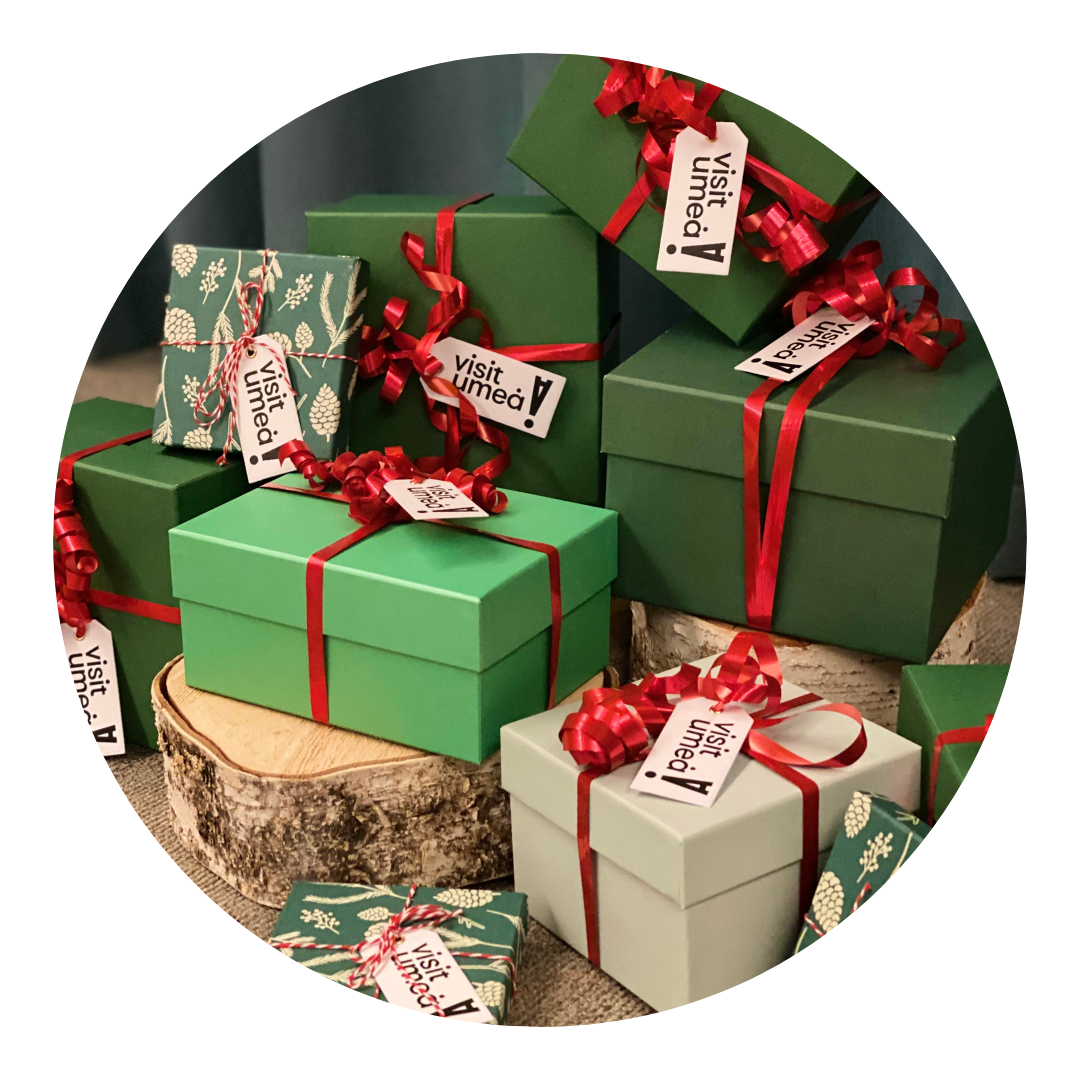 3 december – 17 december
Christmas gift hunt in the center
On the 1st of Advent, the Christmas gift hunt starts in Umeå Center with 10 hidden Christmas gifts in the shop windows of selected stores. Everyone who participates and finds all the Christmas presents has a chance to win a Umeå Centrum gift card with a value of SEK 2,000.
Here's how to participate:
- Walk around the city center and find all 10 Christmas presents (the Christmas presents are in shop windows after Kungsgatan and Rådhusesplanaden)
- State which stores you find Christmas presents in via this link.
- Finish by entering your email address. The winners will be contacted via email on 23 December.
- Keep your fingers crossed that you are one of those who win a Umeå Centrum gift card.
The Ultimate Guide to Christmas in Umeå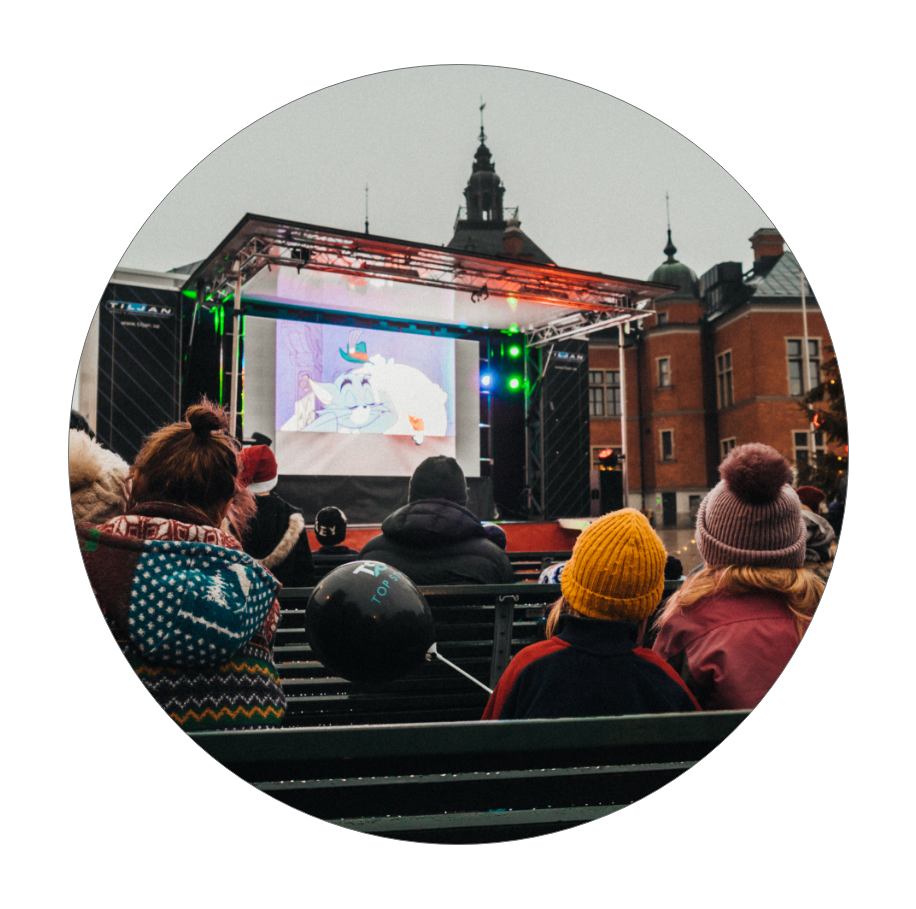 3 december 12.00 to 16.00 pm
Christmas cinema at Rådhustorget
On the 1st of Advent, we start the celebration by showing a Christmas film on Rådhustorget. Movies shown is the childrens movie Titina and Sällskapsresan 1 (both in swedish). On site there are seats with reindeer skins an warming fires.

9 December
Santa Disco at Rådhustorget
The second Advent weekend kicks off with a thrilling Christmas disco! Santa Claus will play music from the stage and dance with all the disco-loving children. Put on your Santa hat - now we'll fill Rådhustorget with little dancing elves. The Santa Disco starts at 13:00. 

9 December
Take part in Santa Run
For the seventh year, Santa Run will be held in Umeå, which means that the city center will be crawling with both small and large Santa Clauses. The race is a "Fun Run" that is walked, jogged, or run entirely without haste and stress - all dressed as Santa Clauses! The course is about 1 km for the younger participants and 4 km for adults, everyone starts at the same time. The warm-up starts at 2:15 PM and the race starts at 2:30 PM.

13 December
Lucia
Lucia is a holiday celebrated in Sweden on December 13th, and it is one of the most popular holidays in the country. On Lucia, we will enjoy a magical Lucia procession that glides through the center. The train starts at 4:00 PM at Stadskyrkan (the Town Church) and goes towards the center through Utopia, MVG and Sagagallerian where they will sing atmospheric Christmas songs.

16 December from 12:00 to 3:00 PM
Meet Santa Claus & Magic Peppe
On the third Advent, no less than Santa Claus himself will be at Rådhustorget to receive all the children's Christmas gift wishes for Christmas Eve. To mark the occasion, he has also invited Magic Peppe to show magic tricks and other entertaining acts.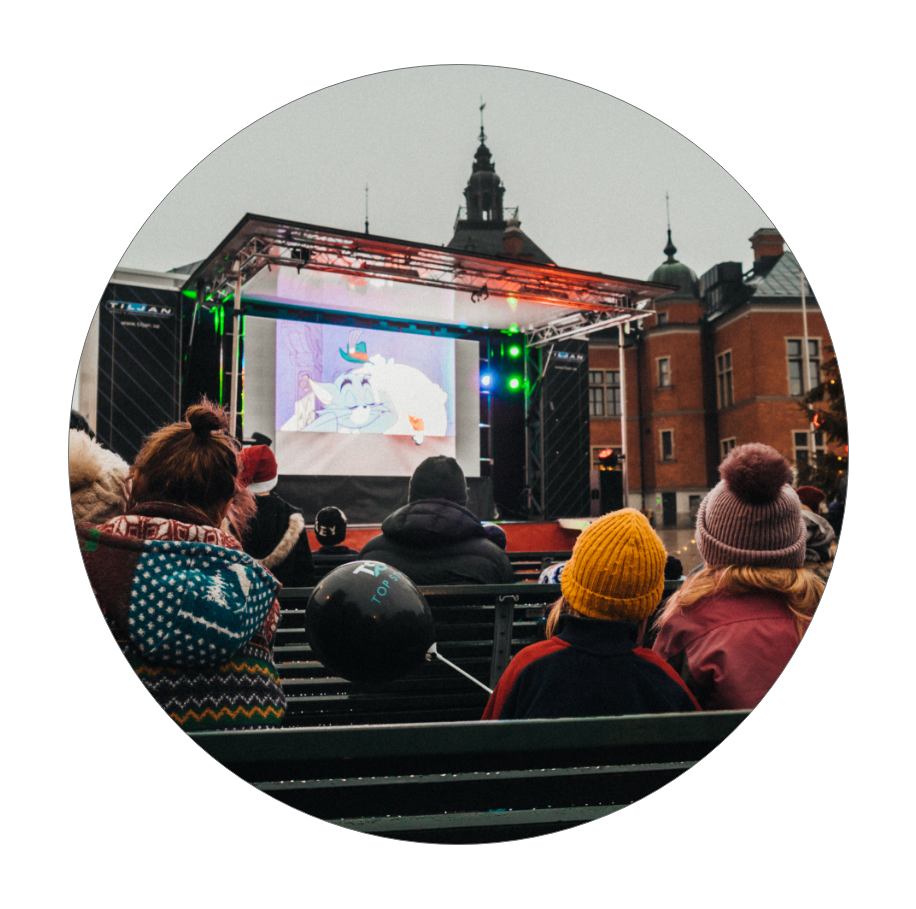 December 23rd 12:00-16:00
Christmas movie at Rådhustorget
On the day before Christmas, it's time to relax, take the kids out and enjoy the Christmas atmosphere in the city center. Klara the Cow Celebrates Christmas (all spoken in Swedish) will be shown on a movie screen on the Town Square. There will be seats with reindeer hides next to warming fires.
Showtimes: 12:00, approx. 13:00 and approx. 14:00

Umeå Center Gift Card
With over 100 different redemption locations in Umeå Center, Visit Umeå's gift card is the perfect gift for everyone. The gift card can be used at everything from stores and restaurants to cafes and hotels.