Experience varied nature with pine bogs, streams and lakes, unusual plants, caves and high mountains with fantastic views. Tavelsjöleden offers exciting cycling and plenty of rest areas for a coffee break.
Level of difficulty and terrain
The terrain along the trail is very varied, from cycle paths, smooth paths and gravel roads in arable landscapes to rocky and steep sections. Cycling the entire route – 42 km – between Umeå and xx will be a challenging excursion, and therefore we have chosen to recommend three sections:
Väven – Hamptjärnsstugan 
9 km, ca. 1 hour 
 
Hamptjärnsstugan – Kullaskogen – Hissjö – Kullaskogen - Hamptjärnsstugan   
15km, 2 hours 
 
Kassjövägen – Stortavelsjön   
2 - 6,5 km, 1-2 hours 
 
Väven, Umeå city center – Hamptjärnsstugan 
The route starts along the promenade upstream of the Umeälven and then follows Tvärån out of the city on cycle paths, smooth paths and dirt roads in arable landscapes and through pastures with self-closing gates. Cows and sheep graze there, so remember to show consideration for the animals. Just before Forslunda naturbrukgymnasium, the trail crosses road 363 over a bicycle bridge. After that, 2 km of trail of varying types await, with some rocky sections where the beginner can expect to steer the bike at times. The final hill up to Hamptjärnsstugan is difficult, but short.
Length: 9 km 
Difficulty: green until the bridge over road 363, then alternating red and blue.  
Link to route in Naturkartan: Read more here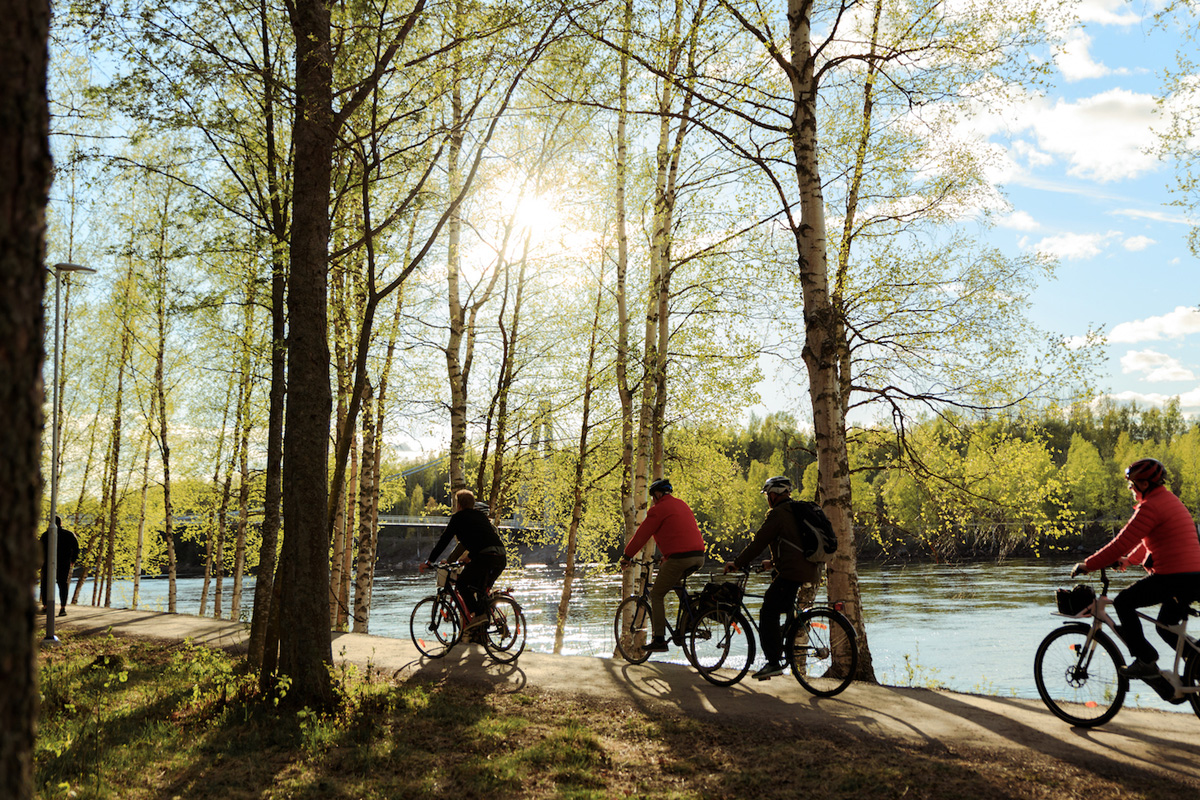 Hamptjärnsstugan – Kullaskogen – Hissjö – Kullaskogen - Hamptjärnsstugan 
From Hamptjärnsstugan to the parking lot at road 363, the trail is fun and challenging enough for those who are used to cycling in the forest. Beginners can instead choose to cycle this stretch on dirt roads. On the west side of road 363, the trail is easy to cycle and follows Kullabäcken north through open pine forest. When the trail leaves the pine heath and finds its way up to Rättberget's wind shelter, cycling becomes more difficult - both on the way up and on the way down. After Rättberget, it is easy cycling again in open pine forest. There you pass Börsberget with some gravel road the last bit to Hissjön. Continue along the path further past Brännan. Parts of that stretch run along a power street with a stretch of approx. 600 meters which consists of a sandy road. Follow the trail all the way up to the junction with the orientation board. There you turn right to go around Hissjön and enter the village. 
Once in Hissjö, a dip at the swimming area, a coffee break at the summer café or a detour to Hissjö Handel is a good fit. Back towards the Kullskogen connection, follow the signs towards Umedalen (Piparböle) and where the trail crosses Piparbölevägen there is an information board marking the transition. There you take a left back the same way to Hamptjärnsstugan.
Length: 15 km 
Difficulty: mostly green, with patches of blue and red. 
Link to route in Naturkartan: Read more here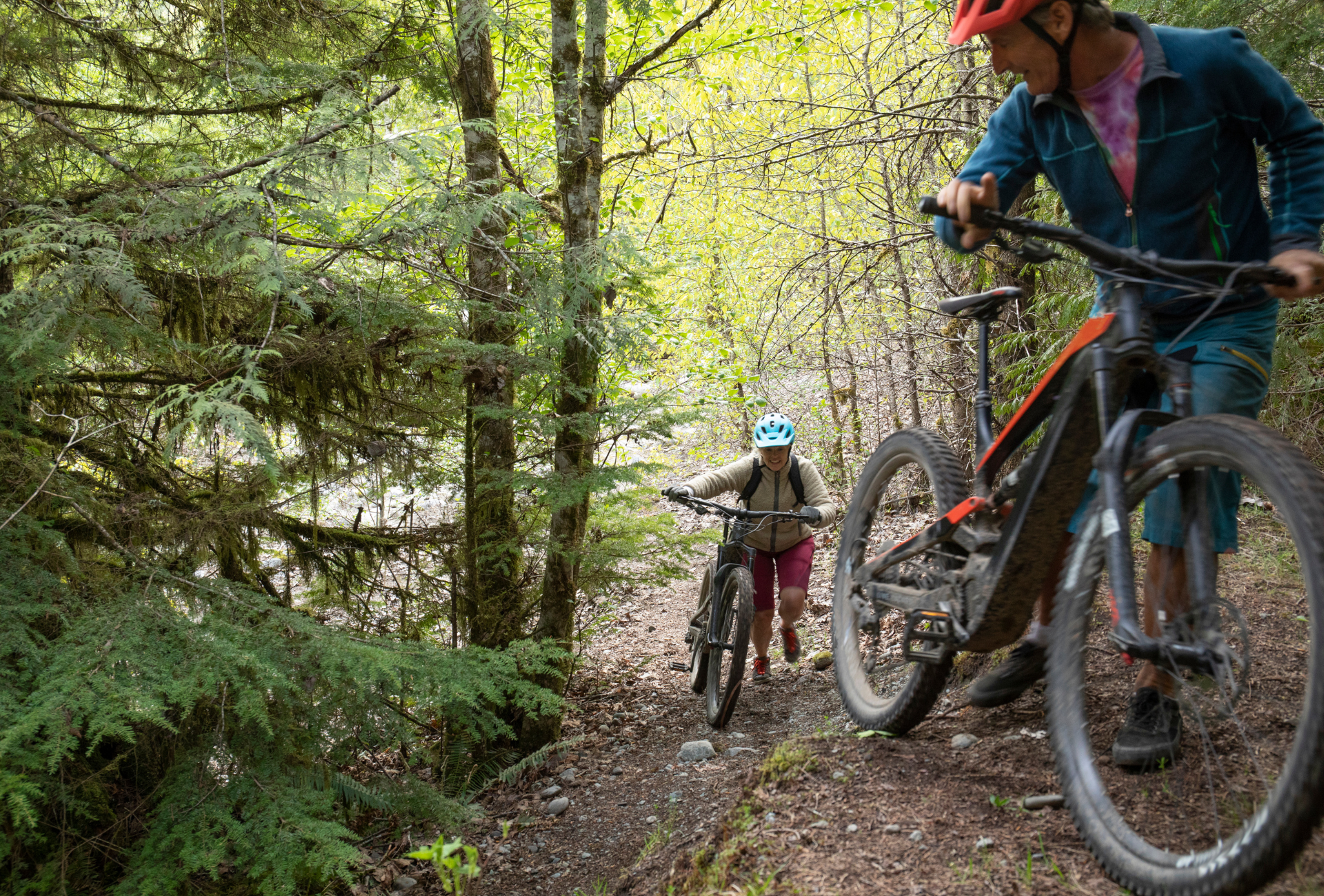 Kassjövägen – Stortavelsjön 
From the parking lot where Tavelsjöleden crosses Kassjövägen, it is 2 km cycling on a tractor road up to Stortavelsjön, slightly uphill the whole way. For the short trip, a coffee break in the wind shelter by the lake will be just fine. Along the western side of the lake, a narrower path leads north towards Vitvattnet and on towards Torrbergsstugan - an adventure for those who want to test their skills. That route goes via the Vitvattnetstigen and then connects to the Tavelsjöleden again.
Length: 2 - 6,5 km 
Those who like difficult and technical cycling can instead follow the trail from Stortavelsjön on the east side towards Vallberget. A fantastic view awaits as a reward for having to partially steer the bike over the most difficult and steep parts. Mountain and mountain biking. At Vallberget there are both wind shelters and lookout towers.
Length: 2 - 3 km 
Difficulty: green up to the lake. From there blue and red towards Vitvattnet and Torrberget. Red and black towards Vallberget. 
Link to route in Naturkartan: Read more here 
Bike rental in the Umeå region
Bicycle-friendly housing facilities in the Umeå region