Petter och Josefin Lämås belongs to the new generation of residents and farming islanders on Holmön. In this guide below you can take part of their story and best tips for a successful visit this summer.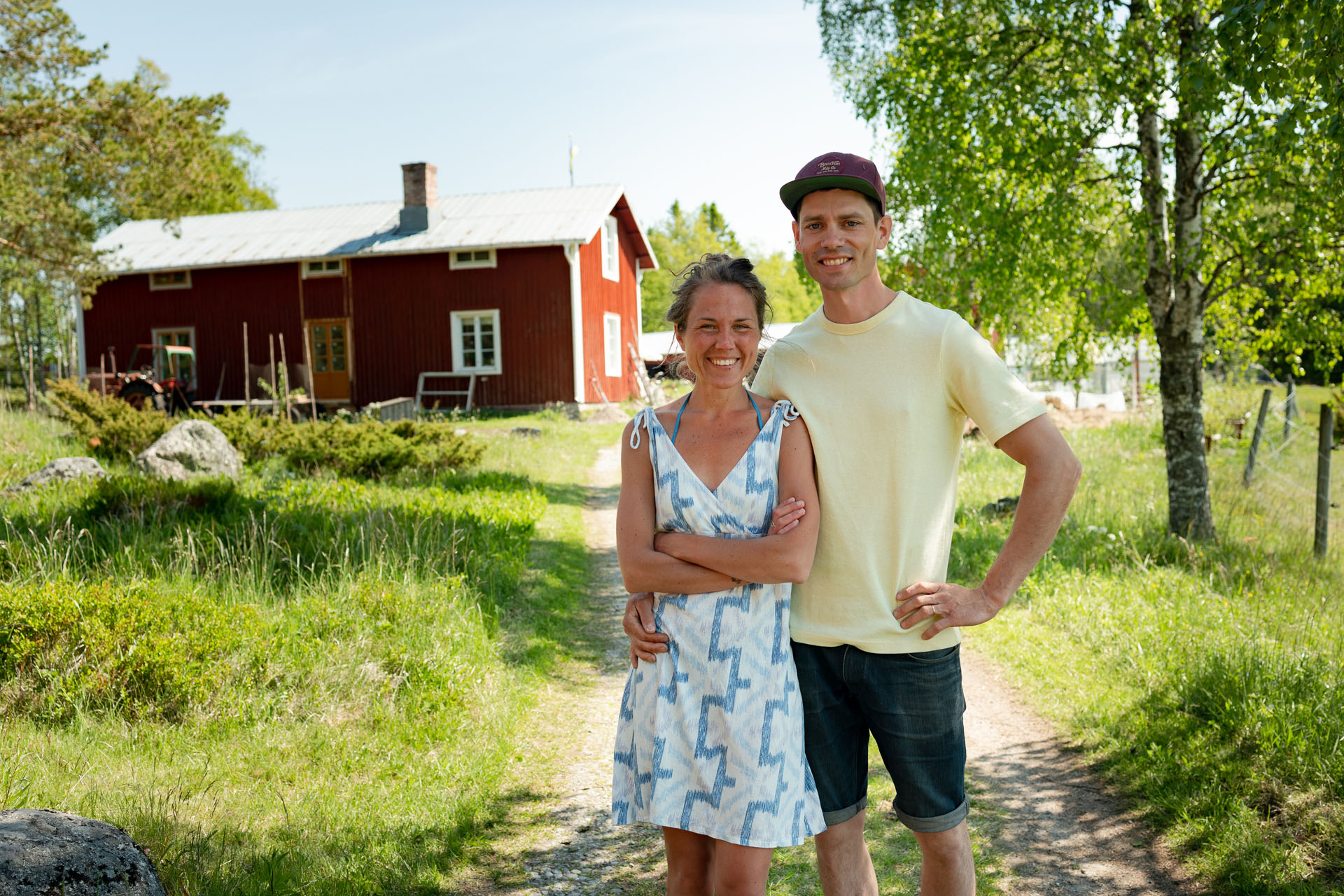 Petter och Josefin Lämås at their homestead Smedshammaren, Holmön. Photo: Visit Umeå
 
Petter och Josefins story
- We discovered Holmön för the first time when we were doing research for our book "Outdoor life around Umeå". When we got the opportunity to rent a small house here, one might say it was love at first sight. Nowadays, we would rather not leave the island at all, says Josefin Lämås.  
Petter och Josefin have lived at Holmön in the homestead Smedshammaren since 2016. The farmyard originates from 1867 and even though the couple is renovating the buildings, they want to retain the genuine feel. The historical environments on the island is an important legacy to preserve and maintain to them, as well as developing ecological farming and self-sufficiency. Petter and Josefin have both grown up in the small community of Sävar, North of Umeå, but have spent many years in Gothenburg and the island group of Lofoten, Norway. When the couple decided to return to Västerbotten County, they searched for nature guides around Umeå region, during which the idea of a book with tips on local excursions around Umeå arose.
- Our goal was to inspire more Umeå-persons to experience the nature during all seasons of the year. It resulted in us getting to know our home region again, and we discovering the charm in all the river valleys, forests and of course the coastal landscape, Petter Lämås continues.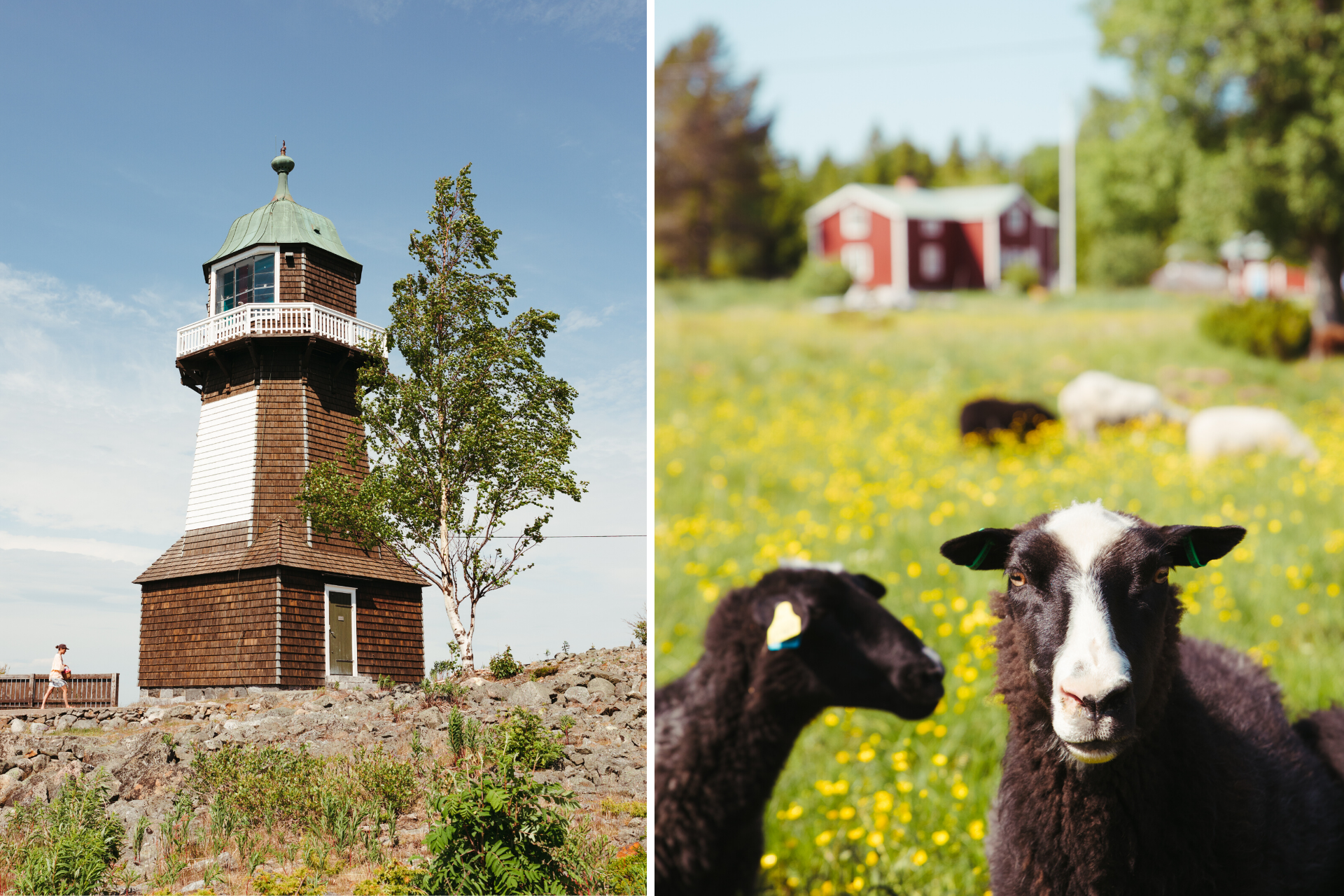 Berguddens lighthouse and animals at Holmön. Photo: Visit Umeå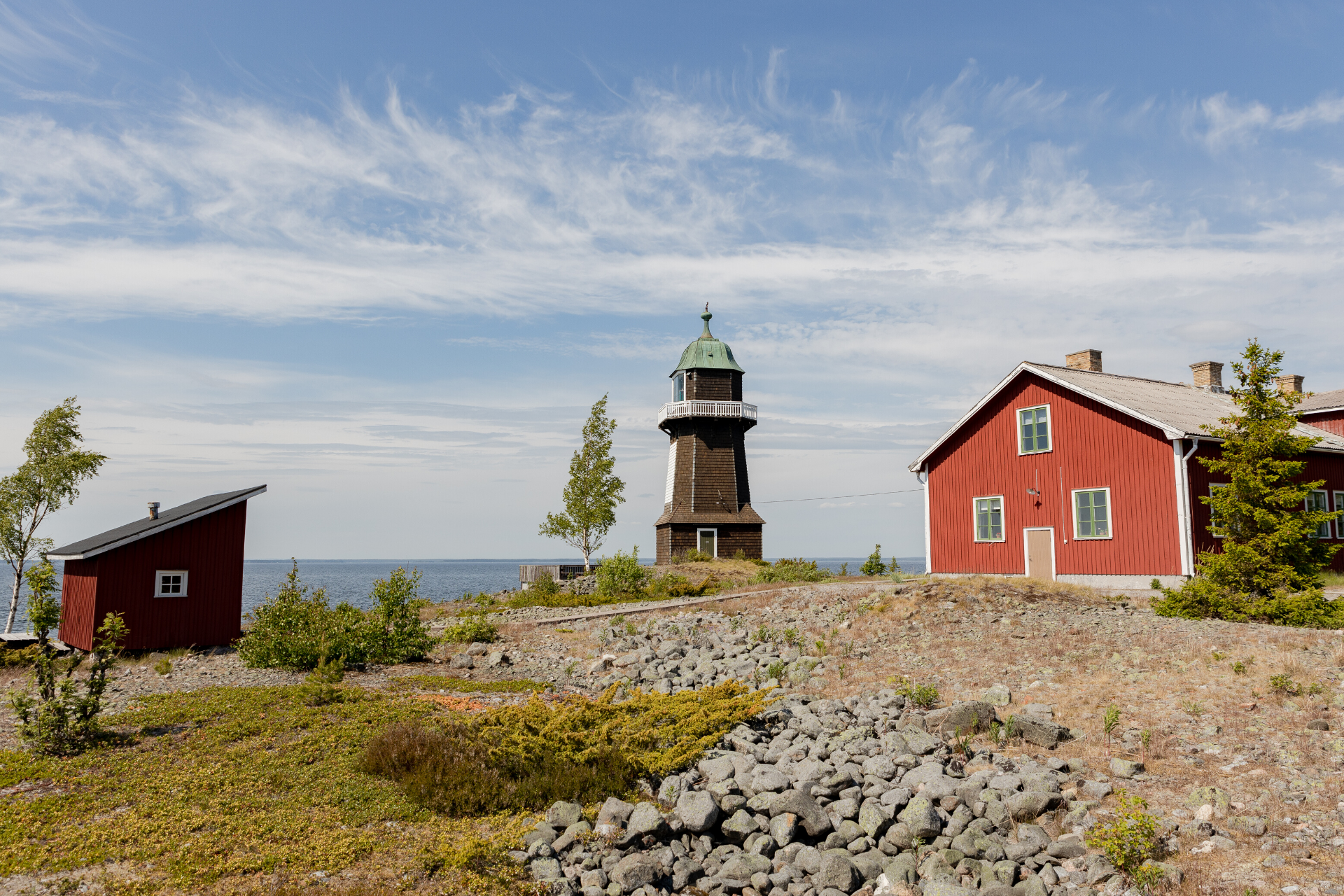 Berguddens lighthouse. Photo: Visit Umeå
 
Tips for a successful visit on Holmön
Petter och Josefin knows pretty much everything there is to see and discover on the island. First of all, they think that one should plan for a longer stay; perhaps in a charming rectory, in beautiful Berguddens lighthouse or why not for free in a plain fiskebastu?! For those looking for that special something, the couple recommends a visit on the island Stora Fjäderägg and its hostel in the island's old lighthouse keeper's accommodation. Read more about accommodation on Holmön here.
Biking is the ideal way of getting around on Holmön. By bike it is easy to get by along the narrow roads and to get a closer experience of the beautiful village center. One can either bring one's own bike along on the Holmö ferry – if it is not too crowded – or one can rent a bike at Holmön's boat museum. Hiking is also something the couple recommends and encourages. Large parts of Holmön are nature reserves with marked trails, taking the visitor to secluded and undisturbed nature. Read more about the nature reserve here.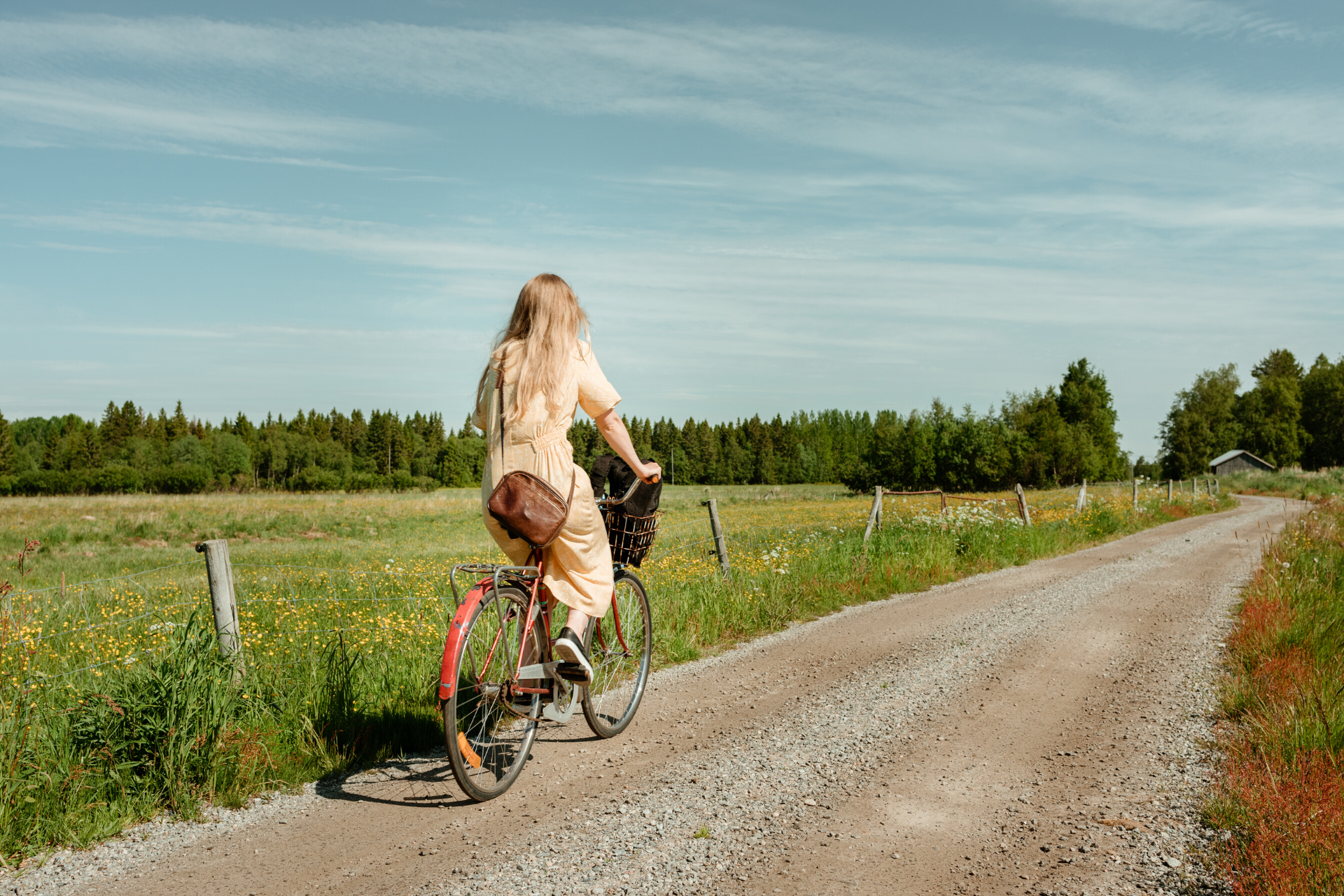 Bicycling on Holmön. Photo: Visit Umeå
 
Petter och Josefins' Top 5 
During a visit on Holmön, a visitor must not miss – according to Petter and Josefin – these following experiences:
Historical places. Holmöns well-preserved village center with surrounding cultural buildings are of recognized national interest and there are plenty of ancient remains and other exciting things to discover on the island.

Nature reserves and nature. Did you know that Holmö islands accommodates one of Sweden's largest marine nature reserves? Or Västerbotten County's largest nature reserve aside from the mountain range? Thanks to land uplift and the brackish water of Kvarken, the flora and fauna on Holmö islands are unique at these latitudes. 

Holmön Boat Museum. Get to know the coastal culture and life at Northern Kvarken. Get to know the islands proud traditions of boat building, the ancient everyday life, and the mighty nature- ang culture history of Holmö islands.

Go for a swim! Holmön is often called "sunniest island in Sweden", so why not take a dip in the sea? Holmön has plenty of rocks by the sea to sunbathe on and a family friendly beach in Byviken.

Experience the lighthouses! Berguddens lighthouse is beautifully located on the West coast of Holmön and is the most Western outpost of the island. From the ferry quay and Byviken it is about 3 kilometers to the hostel and the lighthouse. To reach the island Stora Fjäderägg, one must go by boat. During summertime, the hostel offers daily tours.
More information about Holmön can be found at Visit Holmön