Swimming areas, playgrounds, adventure trails and bicycle parks are just some of the things that the Nydala area offers. Nydala is the perfect excursion destination this summer with activities for both the family and the group of friends.
A summer mecca for the whole family
In the Nydala area you will find an adventure trail for children, terrain trails, bicycle park, adventure playground, fishing, barbecue areas, swimming area and temperate adventure pool. Around Lake Nydalasjön, which is about four kilometers from Umeå center, is a nine-kilometer-long walking and cycling path that is perfect for jogging or the bike ride.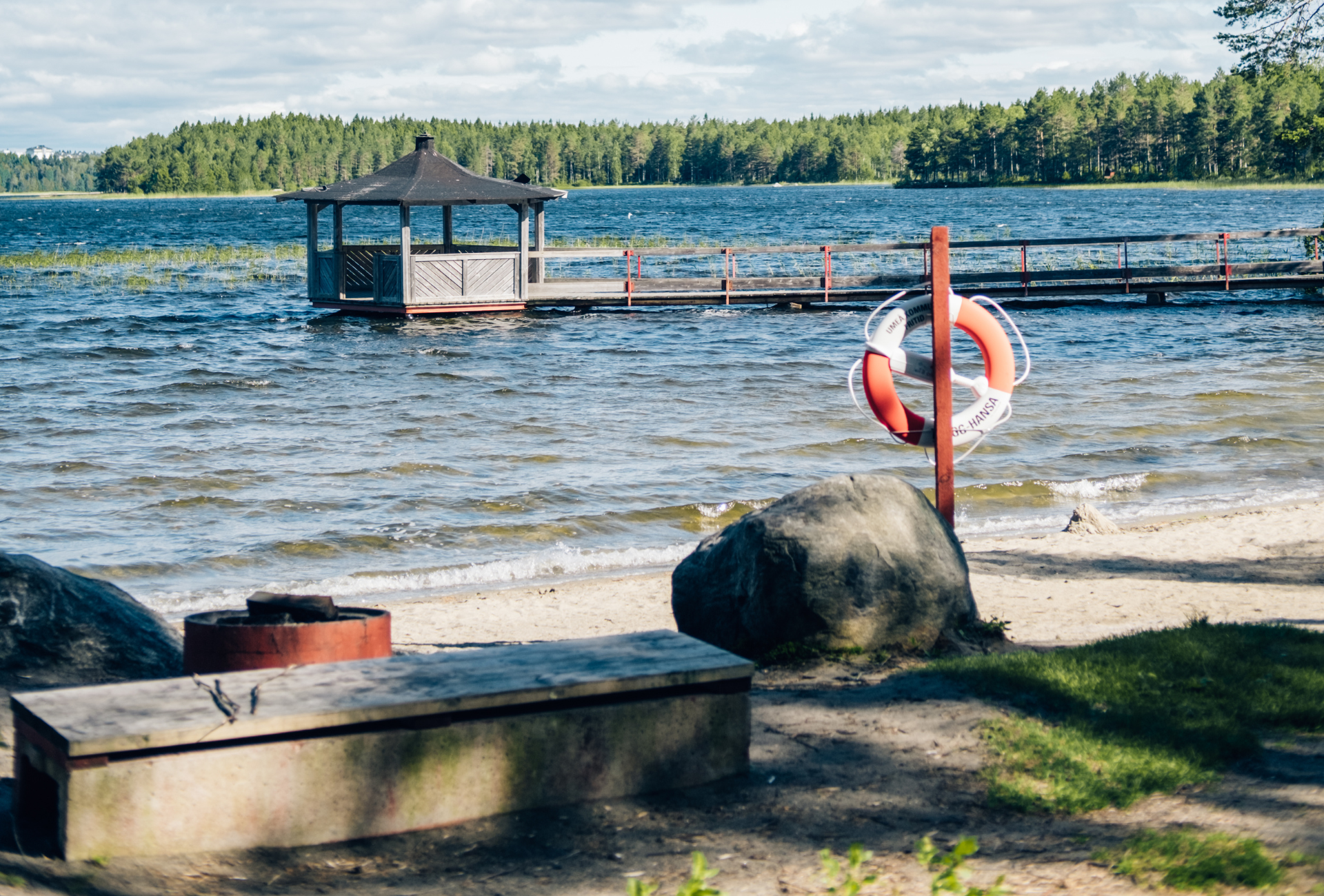 One of Kärleksviken's barbecue areas, and many more can be found around Lake Nydalasjön.
 
Barbecue areas
Many people like to hang out by Lake Nydalasjön for all the cozy barbecue places that the area offers. Around the entire lake there are barbecue areas that are maintained, cleaned and provided with firewood in the summer. With a packed pick-nick basket and a happy bunch of friends, the summer evening is secured.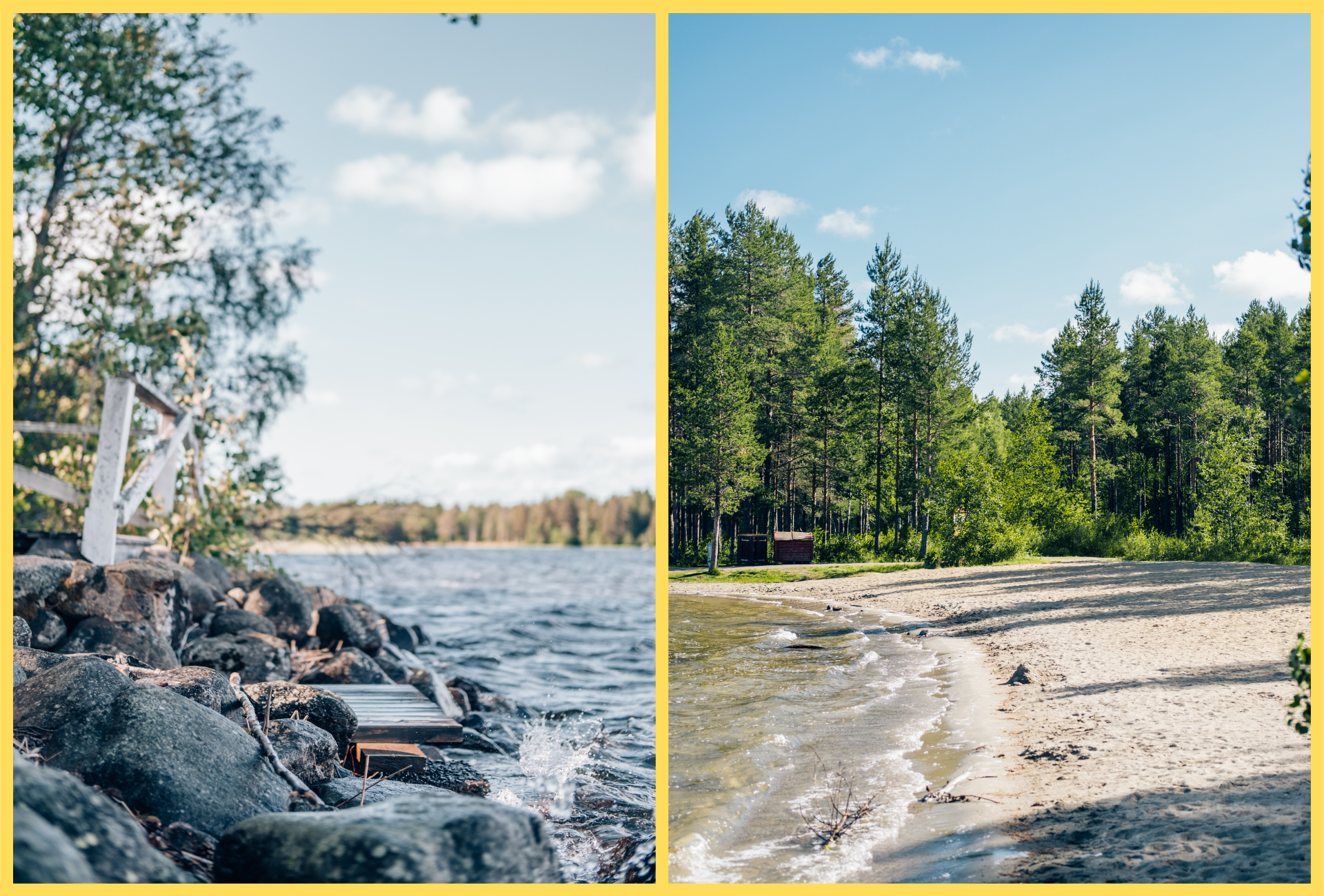 At Lake Nydalasjön there is always a swimming area where the sun shines.
 
Swimming areas
At the northern part of Lake Nydalasjön you will find the lake's largest sandy beach. Long summer days are spent here with sand castle building, beach tennis and lots of dives from the pier.
On the eastern side of the lake is Kärleksviken, which is also a nice, more shallow sandy beach. Perfect for both the family with children and the group of friends when you are hungry for sun and swimming.
Finally, you will find Tomtebobadet at the southern part of the lake. Here is a small beach with large adjacent lawns. Perfect for families with children who want to take a break from swimming with a little play in the adventure park.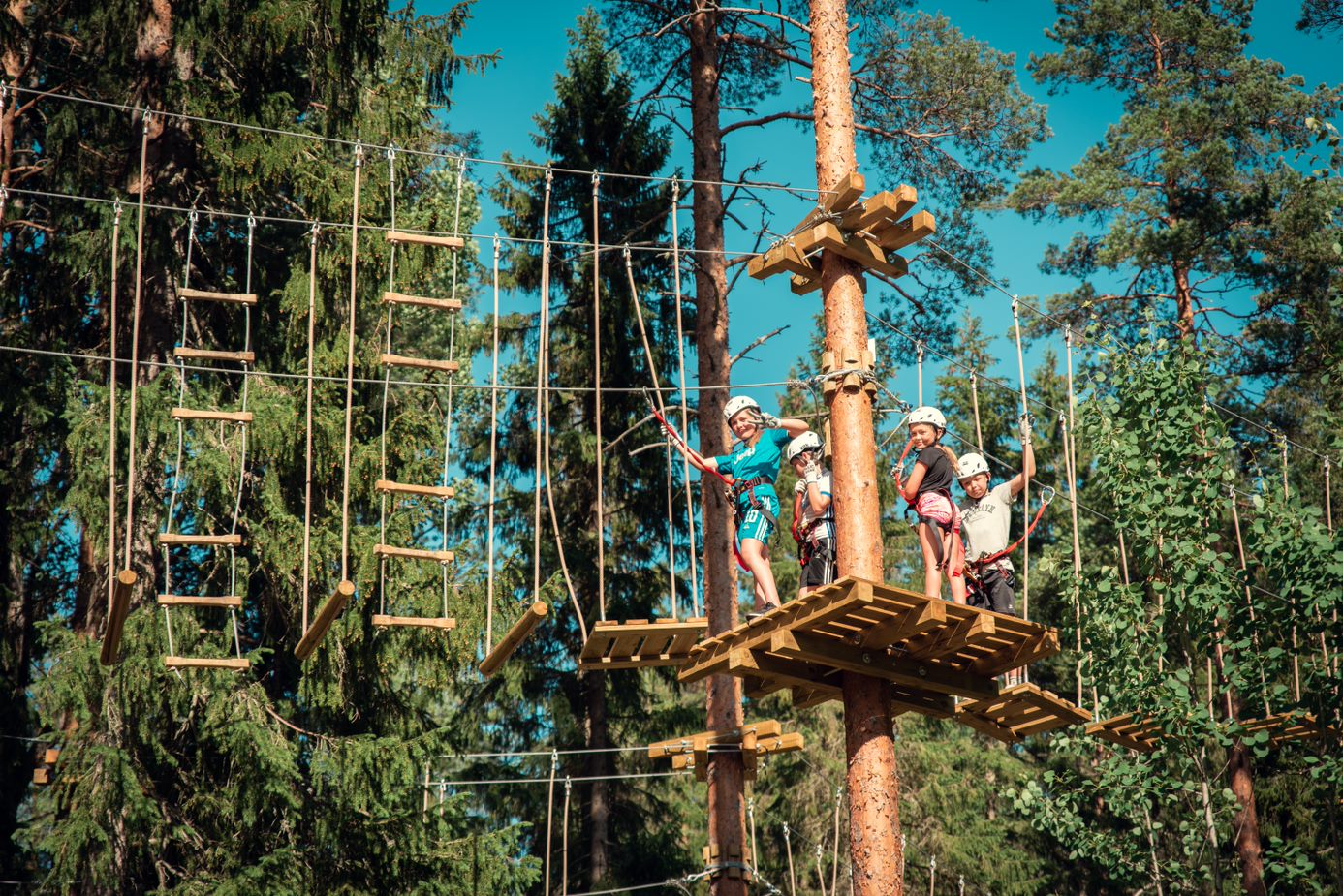 Zip Adventure Park, an exciting adventure in the treetops.
 
Zip Adventure Park
The Nydala area's most action-packed activity is without a doubt Zip Adventure Park. Here you will find a high-altitude course in the middle of the treetops and a challenging five-fight, perfect for the bachelor party, stag party or kick-off. At Zip Adventure Park, both young and old can enjoy both the excitement and nature while the pulse pumps. During the summer months, the park is open every day until the last day of August.
Read more about Zip Adventure Park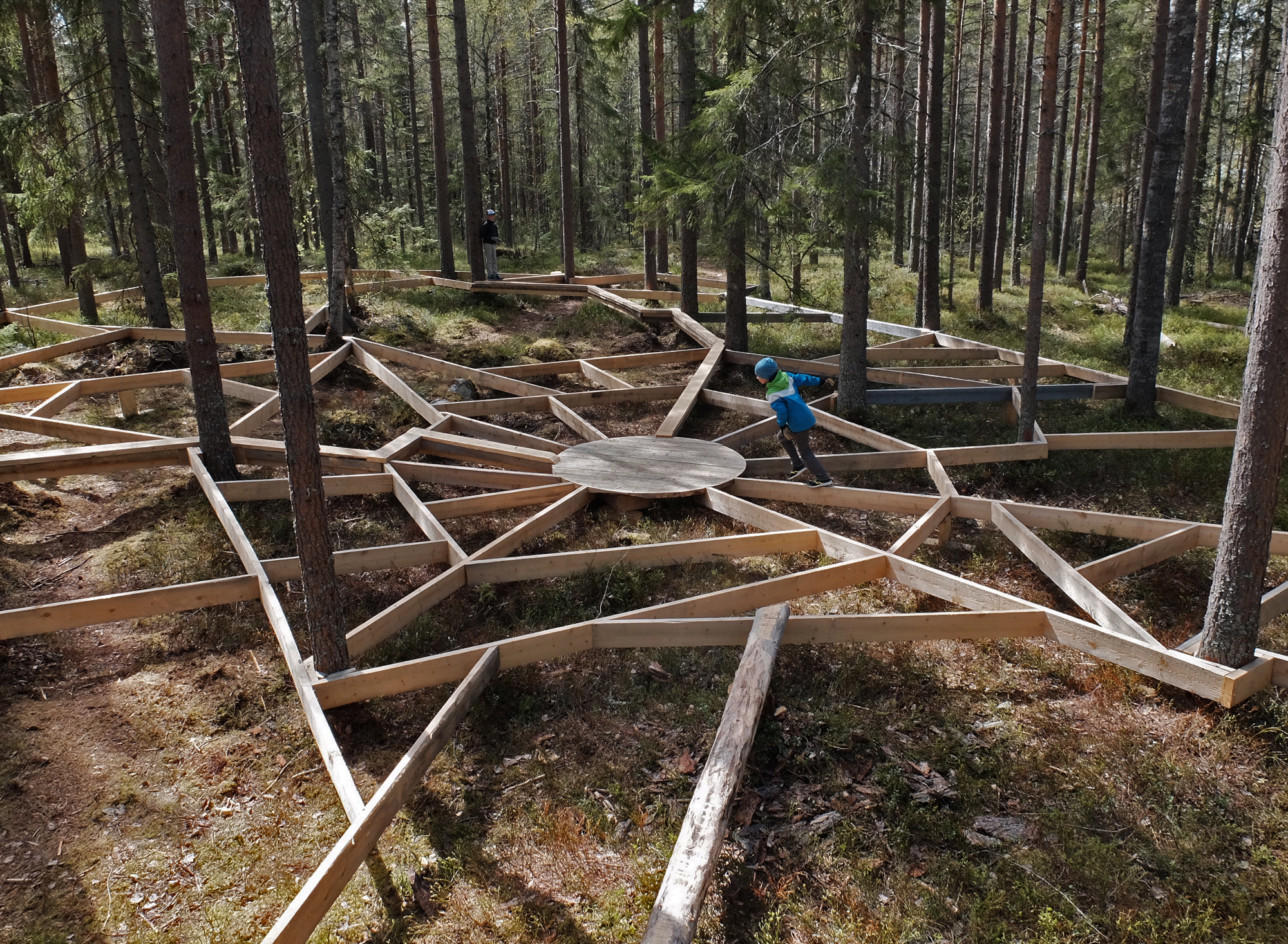 Nydala adventure trail, a fun challenge for most ages in nature.
 
Adventure playground and Adventure trail
At the southern tip of Lake Nydalasjön you will find the large adventure playground. There are high climbing nets, trampolines, skateboarding, maze, cable car and water play. A given excursion destination for all of you with climbing monkeys and explorers in the family. Disability-adapted toilet with changing table is adjacent to the playground.
Read more about the Adventure Playground (Äventyrslekplats)
The adventure continues on the other side of Lake Nydalasjön! Here you will find an 800 meter long forest trail that begins and ends adjacent to Kärleksviken's swimming area at Nydalasjön. Along the path there are eleven challenges of varying character and degree of difficulty, which will be a perfect challenge for the family. Here you will find, among other things, an eight-meter-long crypt tunnel and a vine that you can swing between platforms with. The adventure trail is especially suitable for children aged 6-14, but can also be used by anyone who just wants to enjoy nature.
Read more about the Adventure Trail (Äventyrsstigen)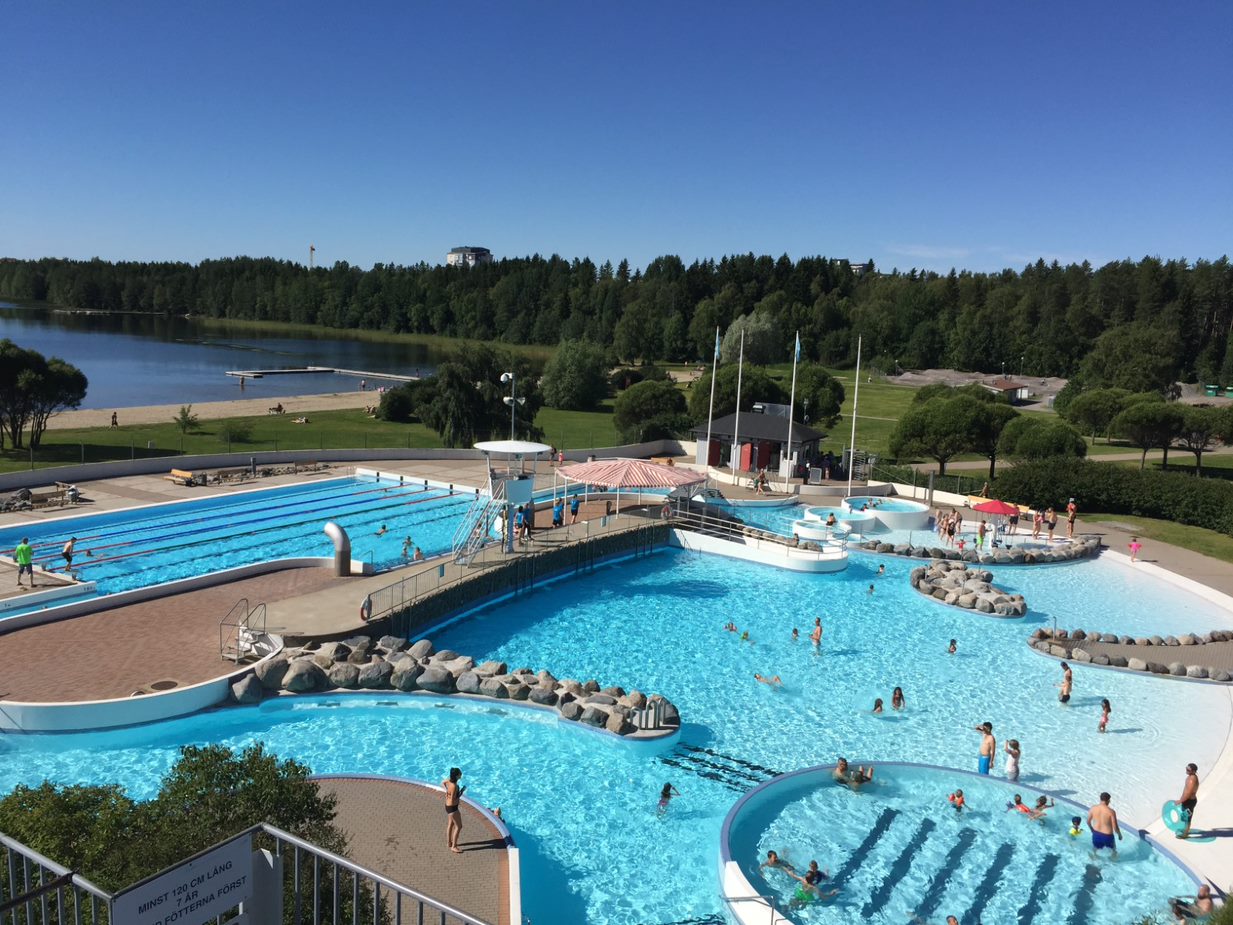 Umelagun, outdoor swimming at it's best.
 
Umelagun
Umelagun is the Umeå region's largest outdoor pool. Here you will find a family and adventure section with water slides, water canals, whirlpools, hot tubs and trampolines. There is also a kiosk in the area and a nearby restaurant. The whole area is disability accessible.
Read more about Umelagun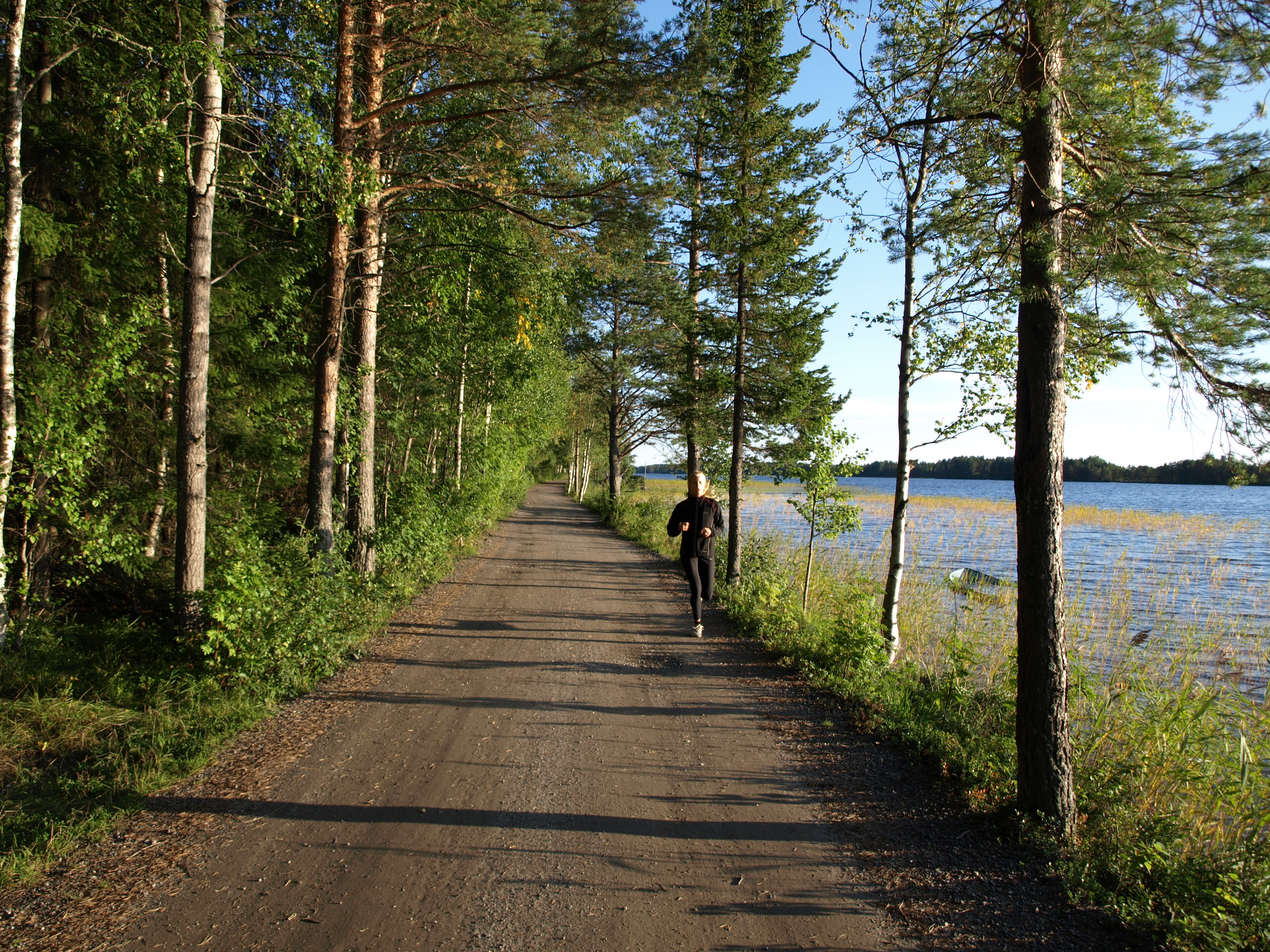 Jogging trip around Lake Nydalasjön. Photo: Umeå kommun
 
Terrain trails, bike park and training
Around the entire Lake Nydalasjön runs an approximately 9 kilometer long road that is well suited for hiking, running and cycling. In the forests around the lake there are a multitude of trails that are also perfect for trail running or mountain biking. At Tomtebo adventure playground there is a small outdoor gym in a separate grove. Why not stop and do some exercises on the walk or run around the lake? Nearby, by Tomtebobadet, there are also two beach volleyball courts.
Next to Nydalabadet there is also a bike park and pump track which is open and available 24 hours a day, 7 days a week. The two tracks are suitable for several different means of transport but are extra good for MTB and BMX bikes.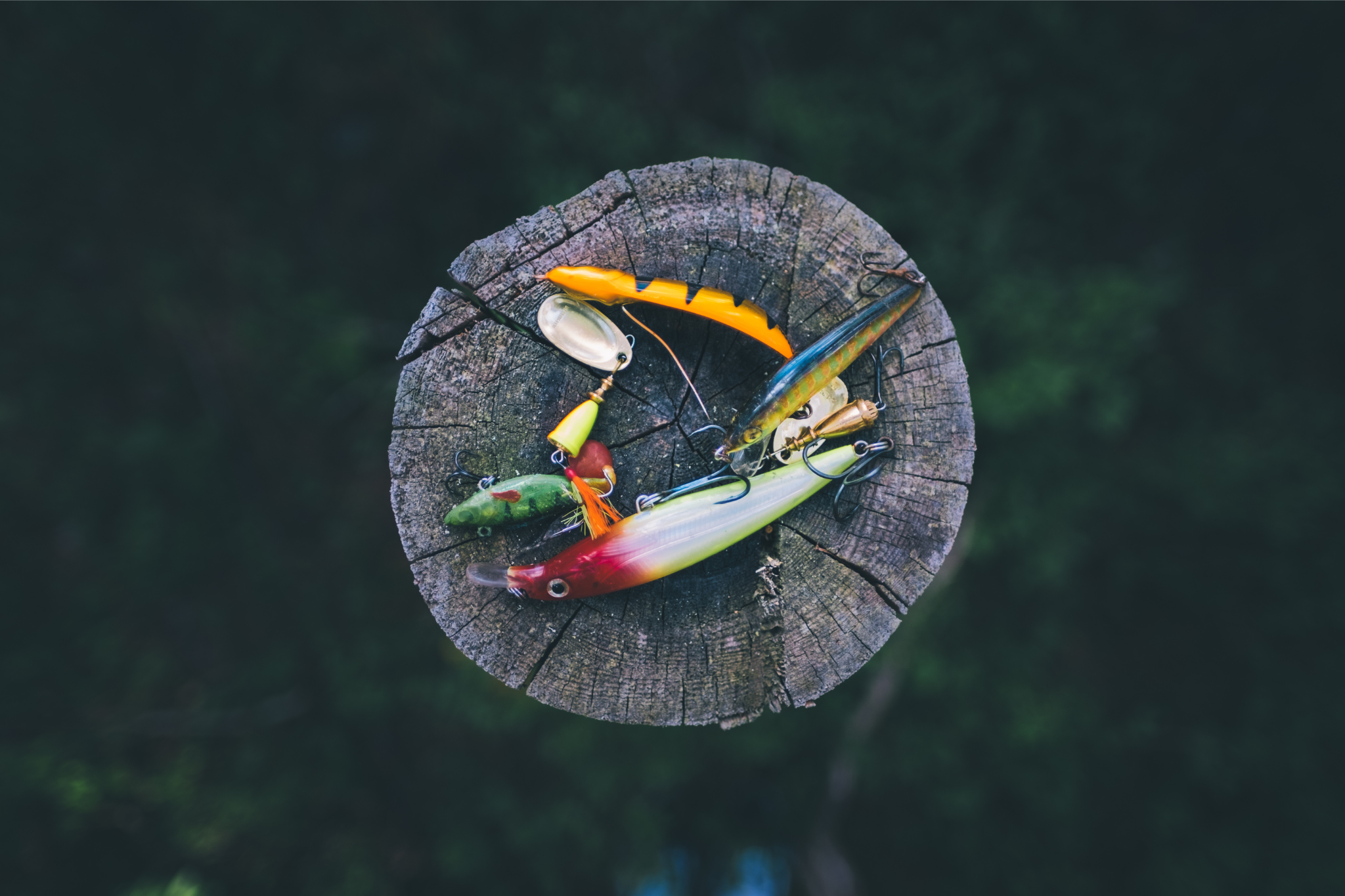 Lake Nydalasjön has lovely fishing spots.
 
Fishing
Around the lake there are several piers and other good places for fishing. With a fishing license and fishing rod, you have the opportunity to get fish in Nydalasjön. At Olle Fiskares väg, Dödmansudden and Kärleksviken, there are fishing piers adapted for wheelchairs. In 2022, fishing in Nydalasjön is free, but fishing licenses must be redeemed.
Map
Easily find all the fun things we have told you about with this map and discover fantastic Lake Nydalasjön.